Jessica Mielenz, Counselor
 What is your name and department? My name is Jessica Mielenz and I am in the student services department as a counselor. 
Have you ever worked at any other school for your school department or is North your first? I have worked at John Hersey High School for three years in the Special Ed department before working at Niles North. 
How would you describe your overall expression on Niles North so far? Are you getting around the school well? I would say Niles North is very welcoming. The students are very nice, very welcoming, and pretty inclusive. Getting around the school has been for the most part pretty good but I haven't been to specific aspects of the school like the pool, but for the most part I've been to most areas.
What are some fun things you have done here at North so far? I got to go to Cultural Night, Lunar New Year's celebration, assemblies, and the Auroris show as well. I am sponsoring the Y&D club which has been really nice since I get to see other students who I typically don't see all the time. 
Do you have a favorite song? What is it? I definitely like Taylor Swift so I am a Swiftie and my friend got tickets so I am going to the concert so I am very excited. I really love her and her new album "Midnights" as I've been listening to it on repeat.
Do you have any pets? I don't but my parents do. My parents' dog is named Abby so whenever I go home I get to see her. I like to call her my sister.
How would you describe your fashion sense? My fashion sense I would say is laid back and comfortable. I think that's my biggest thing, I always try to find some comfort in some way so like the straight-leg jeans I like that they're comfortable and like the wide-leg jeans I'm like they're comfortable so it's nice. I try to be trendy but I feel like I can't pull it off so it just doesn't work.
What is a quote you're inspired by? "Everything happens for a reason." I think sometimes, even with myself, saying that quote is like okay everything will work out, or it did happen for a reason if something negative happened I'm like okay there's going to be a lesson or there's going to be at some point a silver lining I'll be able to see. So sometimes I like to think also when working with students I know sometimes it seems like all at once everything is crumbling apart but just knowing that there is another side and that this may have happened for a reason, you may not see it now but maybe later on you can reflect back and say "oh thank god I didn't do that" or "thank god this happened to me" so I didn't have to go through that. 
What made you want to become a counselor? I originally wanted to become a physical therapist when I was in high school so I went to college to become a physical therapist and quickly learned that I did not want to do that but while I was working with patients I learned I really like talking to them and listening to their stories like their journeys or seeing how they've progressed, so then I wanted to become a counselor and I've always loved working with kids. I have worked at summer camps and babysat and so I think those two together just kind of clicked for me where I was like you know what I think that's the population I want to work with and be able to help them in a different way just to talk to those students just about what they're going through, helping them to get the whole picture and giving them certain outlooks on their situations and I love it. I also love being able to help students with their post to high school experiences and just to help plan it out I think it's great. I'm much of a forward and future thinker so I like helping students figure out what they want to do in the future whatever path they go on. I think it's really fun to help be part of that process.
Leave a Comment
About the Contributor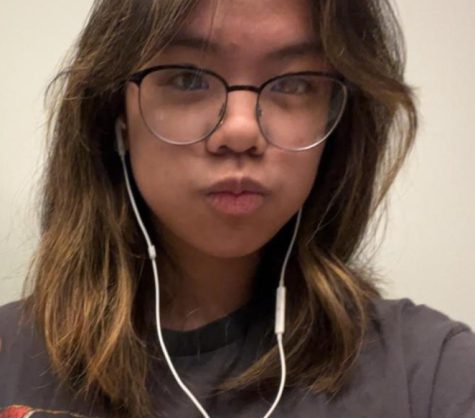 Rilley Cabuga, Reporter
Rilley is a freshman at Niles North who loves music and likes journaling and writing.