Niles North honors the Divine Nine fraternities, sororities
Niles North's theme for this year's Black History Month is the Divine Nine.
In the early 19th century, Greek social organizations (fraternities and sororities) formed on college campuses to provide a sense of community for the students on campus. These organizations, though they provided a number of unique opportunities, were highly selective and exclusive. They barred membership to students based on race, especially Black students. 
Therefore, at the start of the 20th century, Black students from many historically Black colleges and universities (HBCUs) came together to form their own fraternities and sororities. These organizations are known as the Divine Nine. They were formed to educate and uplift the Black community from racial inequality.
The Divine Nine is as follows:
Alpha Phi Alpha Fraternity was founded in 1906 by Cornell University

Alpha Kappa Alpha Sorority was founded in 1908 by Howard University

Kappa Alpha Psi Fraternity was founded in 1911 by Indiana University

Omega Psi Phi Fraternity was founded in 1911 by Howard University

Delta Sigma Theta Sorority was founded in 1913 by Howard University

Phi Beta Sigma Fraternity was founded in 1914 by Howard University

Zeta Phi Beta Sorority was founded in 1930 by Howard University

Sigma Gamma Rho Sorority was founded in 1922 by Butler University

Iota Phi Theta Fraternity was founded in 1963 by Morgan State University
Joining a Black fraternity or sorority is a way to gain valuable leadership skills, build relationships and be part of a supportive community while attending college. One of the most notable traditions of Black Greek life is stepping: a percussive dance where the body becomes the instrument. The birth of stepping has a deep connection with slavery, serving as a freeing movement of expression. There are a number of other traditions to find out about when you join.
Students who are members of Black Greek life are expected to attain high academic achievement, give back to their communities and be good people for both themselves and others. They are expected to unapologetically be themselves, proud of their Blackness and what they have to offer. The principles and pillars of these organizations are centered around service, sisterhood/brotherhood, and scholarship.
Black students at North should definitely consider joining one of these fraternities and sororities during their college journeys because it is a great opportunity to foster academics, community service, and social initiatives that are relevant and unique to each chapter.
For the past century, Black Greek organizations have acted as safe spaces for young Black adults to excel in school as well as in the professional field, uniting them with service. They have played a part in many social organizations, including Women's Suffrage, the Civil Rights Movement, and Black Lives Matter. They deserve to be recognized and honored this month for their contributions to the world.
Leave a Comment
About the Contributor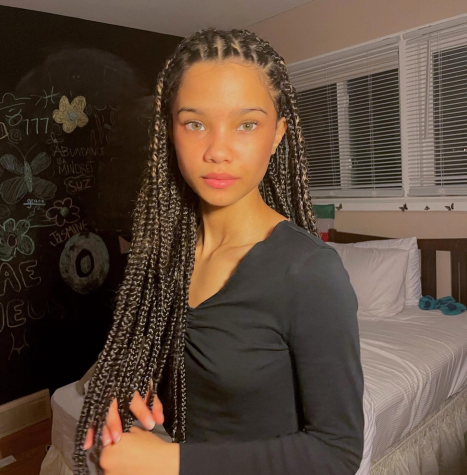 Jasmine Nichols, Reporter
Jasmine Nichols is a Senior at Niles North who aims to write about contemporary issues within the black community. She enjoys learning about black history,...