Kanye West stirs controversy by making antisemitic posts, removed from social media sites
After making Antisemitic posts on Twitter on Sunday, October 9, the social media site announced its decision to take down the rapper Kanye West's account for violation of company guidelines.
"The funny thing is I actually can't be Antisemitic because black people are actually Jew," West tweeted, which has since been removed. "Also you guys have toyed with me and tried to blackball anyone, whoever opposes your agenda." 
West has also been under fire for wearing a "White Lives Matter" shirt at his Paris Fashion Week show. The phrase "White Lives Matter" has long been labeled as a slogan of hate speech by the Anti-Defamation League, a type of speech linked to white supremacists and the Ku Klux Klan, which began using the phrase to retaliate against the Black Lives Matter movement.
"The answer to why I wrote 'White Lives Matter' on a shirt is because they do," West said, in an interview with Fox News host Tucker Carlson. "The same people that have stripped us of our identity and labeled us as a color, have told us what it means to be Black."
"Even after hearing his reasoning for his comments, I think they're completely unacceptable and should in no way be justified," junior Giovanni Bautista said. "Being such an influential person, Kanye should know that anything he says or supports can and will be interpreted in so many ways and can be used to justify people's own prejudices."
"
Even after hearing his reasoning for his comments, I think they're completely unacceptable and should in no way be justified. "
— Giovanni Bautista, junior
In the meantime, West has continued to face repercussions as a result of his actions, including a loss of his partnership with JP Morgan Chase, who has given the rapper until November 21 to remove all of his funds from their accounts based on their disagreement with his platform. The family of George Floyd has also threatened to sue the rapper for another of his recent controversial actions, in which he claimed, in regards to Floyd's murder, that "if you look closely, the guy's knee wasn't even on his neck like that" as a way to discount the brutality of the killing in May 2020. 
"It's hard to come to decisions like these as a nation, but in cases such as Kanye, the answers are clear," Bautista said. "When you have someone with as big of a potential impact as Kanye, it's our responsibility to hold him accountable for any irrational decisions or claims he makes."
Since the incident, West has made the decision to keep his views from being censored on social media, claiming that in a world where conservative opinions are considered to be controversial, "we have to make sure we have the right to freely express ourselves." Currently, it has not yet been made clear when West will regain access to his social media platforms but until then, it appears the rapper will be fighting to remain relevant in a world where his beliefs continue to be challenged.
Leave a Comment
About the Contributor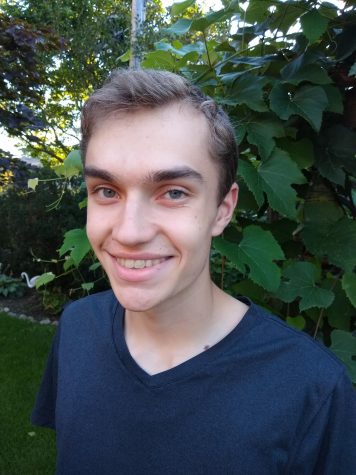 Aiden Stanciu, Managing Editor
Aiden is a junior at Niles North who has been part of the North Star News team since freshman year. He hopes to one day pursue writing as a full time career...