Love is not black and white in Daisy Jones & the Six (review)
The 2019 novel Daisy Jones and The Six by Taylor Jenkins Reid reflects the complex feelings of love and heartbreak through a documentary-style story of 1960s rock.
Daisy Jones is beautiful and has a one-of-a-kind voice that's just getting noticed. Billy Dunne and his band, The Six, have also just entered the scene, with an album that's growing faster and faster. Everyone knows that when Daisy joined the band as lead singer, they became an unstoppable force that would change the music industry forever. But nobody knows what led to the band's sudden breakup during the middle of their tour one night in Chicago. It's all just rumours. 
Loosely based on the band Fleetwood Mac, Daisy Jones and the Six explores lyricism and love and heartbreak. The characters' relationships prove that just because you are in love, doesn't mean it's the happy ending, or at least, the right one.
The interview format of this book will unveil all the events that happened that fateful night. But as the "author's note" at the beginning says, "It should also be noted that, on matters both big and small, sometimes accounts of the same event differ." 
I loved this book. I loved the writing style, the stab-in-the-chest lines, the characters. The written lyrics. All of it. 
Other than being emotionally draining (which I'll definitely get to later), this book was fascinating. The interview format's different perspectives just made the book so much more interesting. I find that most books with multiple POVs can be somewhat annoying to read because there's always that one character who is insufferable and boring. I didn't feel that with this book. Every character had such a unique perspective on the band.
What I love about this book is how layered the characters are. The book wasn't predictable– although there weren't many surprises, the decisions of the characters were more than surface level. 
That's actually what I love most about the author, Taylor Jenkins Reid. I read this book because of her other novel, The Seven Husbands of Evelyn Hugo. She brings so much life into each character, and proves that there's some meaning to why we act as we do. I came to the conclusion that I hate it when characters are unflawed. It's so boring. I was reading some book where the character seemed almost perfect, it was just some messed up environment for them. And it made me so annoyed! I love problematic characters, I'm sorry. Taylor Jenkins Reid makes flawed, interesting characters. 
I was able to empathize with these characters easily with Reid's writing. I went through the tough decisions with the characters, was sad with them, and angry with them. I'm not even sure how to describe it well. I guess I was just really able to understand the characters' choices, even the difficult ones.
Daisy Jones and the Six proves that love is not black and white. And it's not red or blue or golden. Love's not a simple decision, it's not yes or no, right or wrong. It has more depth and story to it. 
 I highly recommend this book to anyone who loves old music, as there are lots of musical references or who enjoys the romance genre. 
If you liked the Seven Husbands of Evelyn Hugo or Malibu Rising by Taylor Jenkins Reid, you'll definitely like this book. There is also a limited series adaption of Daisy Jones and the Six to air on Amazon Prime sometime near the end of 2022. 
Leave a Comment
About the Contributor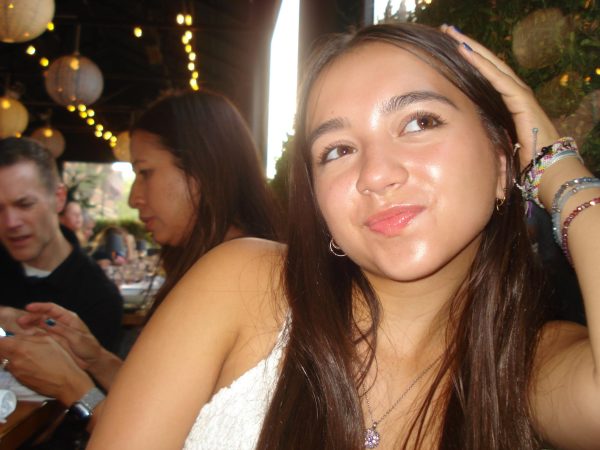 Penelope Roewe, Managing Editor & Opinion Editor
Penelope is a junior and this is her third year on NSN, serving as Managing Editor and the Opinions and Photos editor. She loves to express her opinions...