Remembering the comedic genius Gilbert Gottfried
On April 12, 2022, comedy lost an iconic voice who entertained us for years for his 67 years old living. Gilbert Gottfried was considered one of the most iconic and greatest comics of recent memory with so many projects under his belt that it would be impossible to include in just one article, but here are the highlights. 
Gottfried died due to Ventricular Tachycardia, according to Gottfried's publicist and friend Glenn Schwartz, that was caused by his preexisting condition of Myotonic Dystrophy Type Two which is a dominant genetic neurological disease that affects overall muscles and other bodily functions. The condition caused Ventricular Tachycardia which occurs when the heart muscle has been damaged that can lead to a heart failure. 
In response to his passing, Gottfried's family urged people to donate towards research about Ventricular Tachycardia. "We are heartbroken to share the passing of our beloved Gilbert Gottfried after a long illness with Myotonic Dystrophy Type 2," the family commented. "
"
We are heartbroken to share the passing of our beloved Gilbert Gottfried after a long illness with Myotonic Dystrophy Type 2. In addition to being the most iconic voice in comedy, Gilbert was a wonderful husband, brother, friend and father to his two young children."
— The Gottfried Family
Gottfried has always been known for his rather known stand up and comedy where he is known as, according to Bill Maher, as "the king of too soon". With his highly shrill voice that you can notice from a meter away. He was in SNL and many other movies throughout the years of his career. But, his career expands just from movies and TV. He appeared in the YouTube web series Angry Video Game Nerd, and even had his own podcast, Gilbert Gottfried's Amazing Colossal Podcast!
You might not realize it, but Gottfried had a heavily diverse voice acting career. His most famous role is playing the macaw bird sidekick of Jafar, Iago, in Aladdin(1992) and in all of the direct to DVD sequels and even played the role in Disney video games including the Kingdom of Hearts franchise. 
His other roles include Digit Leboid(another bird) in Cyberchase(2002), Kraang Subprime in Teenage Mutant Ninja Turtles(2012), and the Aflac Duck until he got fired in 2011 due to a controversial tweet, which has followed Gottfried's career throughout his career. 
Many of Gottfried's fellow peers in comedy and those who loved his work gave their condolences and remembered his life. "He was an amazing father, an amazing brother, an amazing husband," said comedian and judge on America's Got Talent, Howie Mandel. "You don't think of him [like that] because he is very acerbic — he was the king of too soon — but he also defined what comedy is. Comedy, which we are losing, is that ability to find humor in the darkest moment. Nobody could do that better than Gilbert."
Stephan Colbert, comedian and talk show host, made a segment with Gottfried before his death parodying the hit Netflix show Bridgerton. "My reaction to that news was the same as my reaction to many of his jokes, too soon," said Colbert. 
Gilbert Gottfried will be remembered throughout history for his work, talent, comedy, and, of course, having the best voice in comedy in recent memory.
Leave a Comment
About the Contributor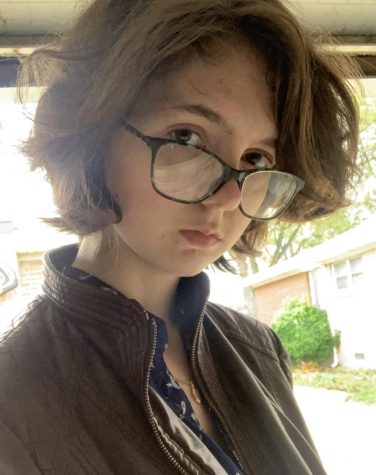 Nicole Nantz, Editor-in-Chief
Nicole Nantz is a writer and editor of the North Star News journalism team. The reason why Nicole started doing the class is so she can experiment with...