2022 Oscars ceremony erupts with controversy
On Sunday, April 2, the Dolby Theatre hosted the 94th Oscar Academy Awards to elaborately showcase the best movie highlights from 2021. 
This year featured many interesting nominations winning their respective categories, including Coda winning Best Picture, Encanto winning Best Animated Feature Film, Drive My Car winning International Feature Film, and Dune winning Best Cinematography. You can find a complete list of the winners here. However, apart from the trophies and applause, one controversial event inadvertently left a tarnished stain on this year's Oscars audience.
The backlash began when this year's Oscars host Chris Rock made an insensitive joke about Will Smith's wife Jada-Pinkett Smith, who has been openly struggling with alopecia and one of its characteristic side effects, hair loss. The joke referenced the 1997 film "G.I. Jane" in which actress Demi Moore was required to shave her head to play the iconic role.
What happened next, however, as the esteemed actor Will Smith made the infamous decision to uninvitedly walk onto the stage and slap Rock across the face, has since sent Hollywood into a frenzy of emotion. Several famous figures have taken to social media and news outlets to publicly condemn Smith for his actions.
"I was sickened," actor Jim Carrey said. "I was sickened by the standing ovation. Hollywood is just spineless en masse and it really felt like this is a really clear indication that we aren't the cool club anymore."
But the controversy at this year's Oscars ceremony didn't end after the violent altercation between Smith and Rock. When Smith walked onto the stage a few minutes later to accept his Oscar for Best Actor in the film King Richard, he began to give an emotional acceptance speech in a tearful apology to the Academy.
"
I was sickened by the standing ovation. Hollywood is just spineless en masse and it really felt like this is a really clear indication that we aren't the cool club anymore."
— Jim Carrey, actor
"I want to apologize to the Academy, I want to apologize to my fellow nominees," Smith said. "This is a beautiful moment. I'm not crying for winning an award. It's not about winning an award for me. It's about being able to shine a light on all the people."
However, Smith's apology has certainly not calmed the backlash he sparked, especially considering the fact that he never explicitly mentioned Rock's name in his acceptance speech. In fact, the production of several of Smith's upcoming films, including Fast and Loose, Emancipation, and Bad Boys 4 have currently been put on hold as directors and producers struggle to figure out how to move forward from the incident. 
According to the Board of Governors for the Academy of Motion Pictures Arts and Sciences, Will Smith has also been banned from attending all Academy events and programs, in-person or virtual, for the next 10 years, until April 8, 2032.
"The 94th Oscars were meant to be a celebration of the many individuals in our community who did incredible work this past year," the academy said. "However, those moments were overshadowed by the unacceptable and harmful behavior we saw Mr. Smith exhibit on stage."
In the meantime, Chris Rock has remained fairly mild about the situation, refusing to explicitly condemn Smith for his actions. "Life is good. I got my hearing back," he joked at a comedy show in Palm Springs, California. "I'm OK, I have a whole show and I'm not talking about that until I get paid."
However, since the incident, Smith has proven to be remorseful of his actions and has compliantly accepted the Academy's decision. "My actions at the 94th Academy Awards presentation were shocking, painful, and inexcusable," Smith said. "The list of those I have hurt is long and includes Chris, his family, many of my dear friends and loved ones, all those in attendance, and global audiences at home. I was out of line and I was wrong. There is no place for violence in a world of love and kindness."
To watch the full incident, click here.
Leave a Comment
About the Contributor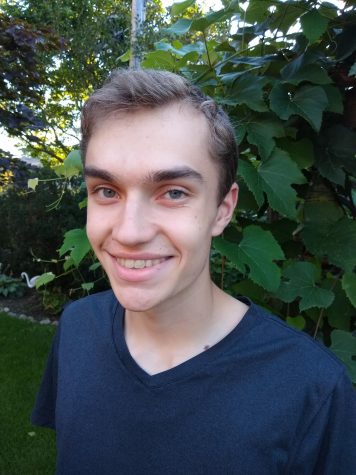 Aiden Stanciu, Managing Editor
Aiden is a junior at Niles North who has been part of the North Star News team since freshman year. He hopes to one day pursue writing as a full time career...