The 'Where the Crawdads Sing' controversy explained
Delia Owens, author of the bestselling novel and upcoming movie adaption Where the Crawdads Sing, is facing backlash for a murder that she may have been involved in three decades ago while living in Zambia. 
Where the Crawdads Sing is a bestselling novel that sold over a million copies in 2019. The movie adaption is set to be released this July, being produced by Reese Witherspoon with an original song by Taylor Swift. 
While the novel is very popular from its widespread critical acclaim, the controversy surrounding author Delia Owens has recently resurfaced. 
Delia Owens is a writer and conservation activist who lived in Africa for 22 years. However, Owens and her husband are strongly advised to never return back to Zambia, as they are wanted for questioning on a murder that took place three decades ago.
Owens and her husband Mark moved to Zambia in 1986, where they were said to be "disgusted" by the elephant poaching. Mark Owens joined an anti-poaching activist group that trained scouts to shoot poachers. 
In 1995, ABC's program Turning Point was making a segment on their activist efforts, and they caught the killing of an alleged poacher on film. Witnesses say Mark Owens shot the poacher first, killing him. While poaching is seen as morally wrong, questions are raised concerning if it justifies the murder of a poacher. There's also a lack of evidence that the victim was a poacher– he was alone and there were no clear signs of any animals he had killed. ABC failed to contextualize the killing when they aired the segment on TV. 
Mark Owens is suspected to have hidden the body in a lake, as it was never recovered, with the help of his son. 
While Delia Owens did not take part in the murder, she stood by her husband and stepson and fled the country with them. It's speculated that Where the Crawdads Sing is about the events that happened in 1995 which drew even more attention because it seems as if she's recounting what happened through a different perspective, going on to make millions off of it. 
Delia Owens and her publisher have managed to swerve around and overshadow that part of her life, but it seems some things can't stay hidden forever. 
Reese Witherspoon, who produced the movie adaptation of Where the Crawdads Sing has yet to make a statement about what's recently resurfaced, nor has Taylor Swift, who wrote an original song for the movie.
To read more in-depth about this murder, check out The Hunted, by Jeffrey Goldberg, an 18,000-word story about what really went on.
View Comments (1)
About the Contributor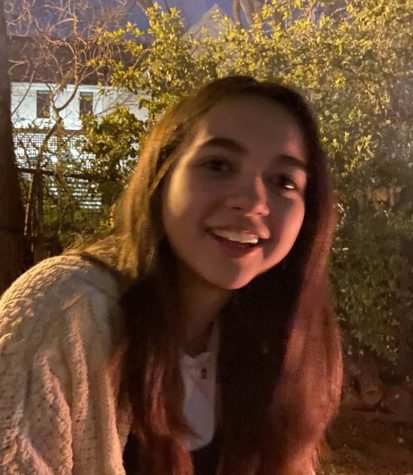 Penelope Roewe, Public Relations
Penelope is a sophomore at Niles North and this is her second year on North Star News. She is the features editor as well as the social media coordinator....