Crying in Hmart review: Crying in my room reading
Ever since her mom died years ago, Michelle Zauner cries in the Asian chain supermarket, Hmart. Zauner never had a stable relationship with her mother. The two fought all the time because they were so different: Zauner, an American teenager, obsessed with her band (and not so much with school), and her mother, a Korean immigrant with high expectations and too much love for her daughter. The only thing holding their relationship together? Food and Korean culture. The 2021 memoir Crying in Hmart dives into the roots of a complicated relationship between a mother and daughter. 
But when Zauner gets a call from her dad one day, her whole life changes. Cancer. Zauner relocates her whole life from New York City back to her hometown of Eugene, Oregon to reinvent her relationship with her mother, before it's too late. 
A tearful journey of hospital visits, Celine Dion karaoke sessions, trips to Seoul, and reminiscing her relationship with her mother, Zauner beautifully revisits the worst year of her life. This book brought me to tears. It's my favorite book I've read in 2022. 
I'm not one to read memoirs often, but I decided to read this because my aunt recommended it. It was also very well received with rave reviews. I'm so glad I read it. 
Although I am one to tear up at pretty much any sad piece of media I consume, I have no doubt that anyone who reads this book will do the same. Zauner's honest writing is comforting, yet heartbreaking. Her language is vivid, yet raw. I felt like I was on this journey with her.
"
I learned so much about Korean culture from reading this book. Zauner's imagery of Seoul made me feel like I was actually there.
— Penelope Roewe
I learned so much about Korean culture from reading this book. Zauner's imagery of Seoul made me feel like I was actually there. I was hungry just by reading about the food she made with her mother. The book centers around how impactful expressing your culture can be and how it can bring people together. Though her mother may be gone, Korean culture will always be a reminder of their relationship. 
The memoir highlights the imperfections of Zauner's relationship with her mother, but also the lessons that Zauner learned from her. My favorite part of the book was about a line that Zauner's mother always told her.
"Some of my earliest memories I can recall are of my mother instructing me to always 'save ten percent of yourself'. What she meant was that, no matter how much you thought you loved someone or thought they loved you, you never gave all of yourself. Save ten percent always, so there was something to fall back on." 
Zauner goes on to say how her mother would always say that no matter what, she would always love her daughter, more than anything else. This line got me. At first, I was unsure of her mother, thinking she was a toxic asset to Zauner's life, and at sometimes, maybe she was. But as I learned more about her mother, I grew to love her and understand why she was so overbearing and strict. She only ever wanted the best for her daughter. 
I would recommend this book to anyone who's been on the receiving end of tough love or complicated relationships, though it may be hard to read, it gives a unique perspective on our loved ones. I would also recommend this to anyone who's interested in Korean culture or just needs a good cry. 
Zauner perfectly encapsulates life and loss in this heart-wrenching tale of a mother's love. 
⭐⭐⭐⭐⭐/5
Leave a Comment
About the Contributor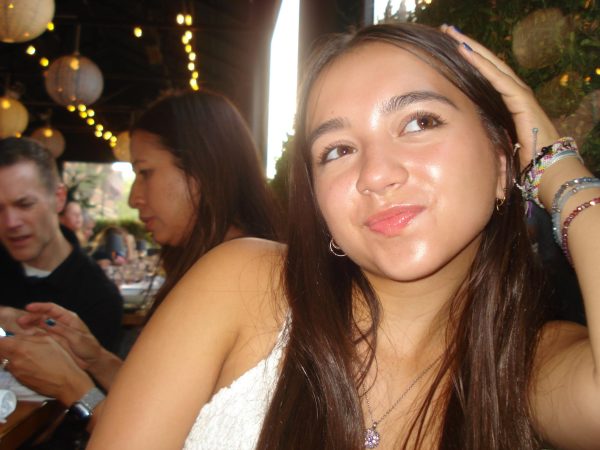 Penelope Roewe, Managing Editor & Opinion Editor
Penelope is a junior and this is her third year on NSN, serving as Managing Editor and the Opinions and Photos editor. She loves to express her opinions...