Girls volleyball team makes history
For the first time in 55 years, the girls Varsity Volleyball team won their first conference title and was undefeated 10-0. Despite almost not having a season they pulled through strong. PW teacher and coach Terri Vanderjeugdt is currently the coach for the team.  Here are a few words from Coach VJ:
Q:   How does it feel to make history by winning a conference?
A:  The feeling of making history for the first time was absolutely amazing. I have been in the program for over 10 years. We have had some great teams prior with a record of 30-2 but fell short with winning a conference championship. Last season was the first time we were back in the CSL North. I was excited to see what we had for competition and with this team I knew we could do something.  At the end of our season, our girls had one goal in mind, and they were hungry for that goal, and was to put a number on that banner. I never thought that we would go 10-0. That to me was an added bonus to making history for the first time even more special.
Q:  How would you describe the season?
A:   I would have to describe our season as a roller coaster ride. We had several highs, and then some lows. The downside is the uncertainty of whether we would be able to stay healthy for the whole season, due to covid.  I was also nervous at first with the start of our season, because we had to put a 14 week season into a 7 week season.   There were a lot more games scheduled during the week, and less practice time to be able to correct and work out any kinks that were made in prior games. Due to the fact that my team had missed a full year of playing /practicing together and coming into the season behind with contact days, also made me nervous.  But I would say that the biggest obstacle that we encountered was that the IHSA were allowing club volleyball players to play at the same time as the high school season.  This created me to be nervous as I knew that some of the teams we struggled last year were also going to give us trouble again this year, as they also had their starting returners. Our girls came out for each game with HEART, GRIT and ADVERSITY and with a goal in their mind that each WIN would bring them closer to a 2021 Conference Championship as well as to make history.
Q: What are you most proud of?
A: There are a lot of things that I am proud of, but the most important thing is that we stuck together when we were behind in the game by points. We NEVER gave up and we kept our composure. We used each other to build ourselves up when we were down, and had FAITH and BELIEVE that we were the BEST TEAM ever out there. When you believe in yourself and in your teammates, you can achieve anything and I mean anything.  These girls worked hard in practice, and it carried them through the games. I do not think I have just one word that can describe how I feel and what I am proud of. This season was a culmination of PRIDE< MAKING A STATEMENT< AND PUTTING NN on the RECORD BOARD. 
 Even with all the roller coaster feelings seniors got their season to finish the year right.
Leave a Comment
About the Contributor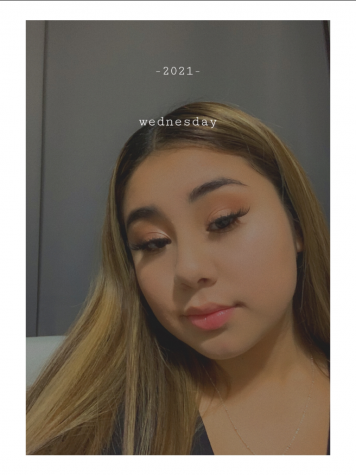 Esmeralda Vazquez, Reporter
Esmeralda Vazquez is a senior at Niles North.