Space Jam 2: A New Legacy coming to theaters
Welcome to Space Jam!
Are you ready to be on the Tune Squad and help Lebron James get his son back? 
Lebron James plays against real NBA players to gain his son back. Lebron James forces his son to become a basketball player like him, But his son doesn't want to become a basketball star. He has trouble bonding with his son. They get on-off the elevator onto the wrong floor and get lost into this microchip maze. They both are lost and the only way Lebron James can get his son back is to beat the rival team that is based on real basketball players. 
The Tune Squad features Lebron James, Bugs Bunny, Lola Bunny, Tasmanian Devil, Tweety Bird, Daffy Duck, Slyvester, Porky Pig, Sniffles, and more.
The Goon Squad has Klay Thompson, Anthony Davis, Damian Lillard, Chris Paul, Draymond Green, and Kyle Kuzma, as well as WNBA players Diana Taurasi, Nneka Ogwumike and Chiney Ogwumike. Don Cheadle is in Space Jam as Al-G-Rhythm.
What team do you choose, the Tune Squad or the Goon Squad? Be ready to watch this movie, it is going to be out in theaters on July 16, 2021.
About the Writer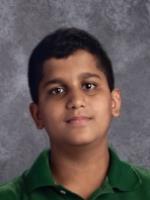 Adnan Khan, Reporter
Adnan is a senior and is writing for the NSN for the first time. He was on the baseball team for two years.