Dilemma at the border: Record number of unaccompanied migrant children remain in CBP custody
A national crisis has quickly begun to ensue at the nation's border wall where, according to a report given by one of President Joe Biden's top officials, the number of migrants arriving in the U.S.-Mexico border is on pace to be the highest in 20 years. 
Lately, the Biden administration has struggled to house the growing number of children who are arriving without a parent or legal guardian, leaving the kids stuck in jail-like facilities for days, according to ABC News. In the meantime, the administration plans to increase the currently available capacity to house unaccompanied children and speed up the process that would allow them to move out of the government's care more quickly.
Normally, federal law requires unaccompanied children to be turned over within 72 hours to the Department of Health and Human Services, which oversees a shelter designed to house minors, but due to constraints related to the pandemic, children are staying in custody for longer than the 72-hour limit. On average, children are now staying in Border Patrol custody for an average of more than five days. In that setting, children are alternating schedules to make space for one another in confined spaces where some of the kids haven't seen sunlight in days, and others are taking turns showering, often going days without one. According to some border patrol agents, some children are even sleeping on plastic cots and mats on the floor and benches. 
Many of the unaccompanied children coming to the United States are trying to reunite with family members or escape violence and poverty in their home countries, according to immigration experts like President of the Mexican American Legal Defense and Educational Fund, Thomas Saenz, who say that factors such as Central America having recently been battered by hurricanes and slumping economies in the wake of the COVID-19 pandemic has spurred a higher migration rate than usual. 
The migrant children are typically making the potentially dangerous trip to the border either alone or with older siblings, grandparents or other relatives so that they will be permitted to enter, because if the children and their parents had entered together as a family, they could be expelled under Title 42, a health order created to help limit the spread of COVID-19.
But perhaps a larger concern is the fact that so many reporters and journalists have been denied access into the facilities housing the unaccompanied migrant children. "This should be transparent," Senator Rob Portman, ranking member on the Senate Homeland Security and Governmental Affairs Committee said, referring to the conditions of the facilities. "It's amazing to me how little my constituents know about what's going on down along the border. It is a situation spiraling out of control."
"
People have to see them so that they can assess the inhumanity and hopefully embark on more humane policies"
— Thomas Saenz
Thomas Saenz, president of the Mexican American Legal Defense and Educational Fund, also agrees that the U.S. should allow media access to border facilities but while respecting the privacy of immigrants detained inside. He acknowledged the risk of sharing without permission images of children who have already faced trauma. "We ought to be aware of these conditions," Saenz said. "People have to see them so that they can assess the inhumanity and hopefully embark on more humane policies."
In the meantime, to help temporarily solve the situation, the Biden administration has opened several additional emergency shelters within Dallas in the hopes of being able to accommodate more children. But in the long run, the President plans to establish new policies that will allow the migrant children to apply for refugee status in order to improve their living conditions. He has also promised to donate $4 billion to Central America to help combat ongoing issues, such as poverty and crime, within the region.
Leave a Comment
About the Contributor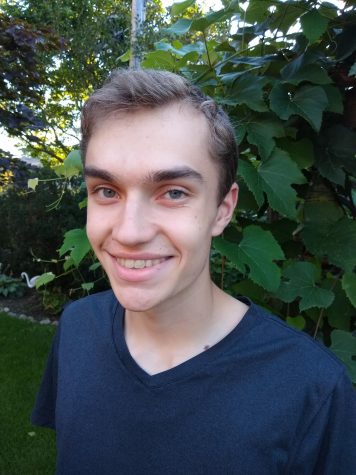 Aiden Stanciu, Managing Editor
Aiden is a junior at Niles North who has been part of the North Star News team since freshman year. He hopes to one day pursue writing as a full time career...