Chicago Bulls Player Zach LaVine selected as an NBA All-Star
The Chicago Bulls season has transformed into a backdrop for Zach LaVine's breakout year. On Tuesday, February 23, when the coaches vote was revealed, Zach LaVine was rewarded by being named an All-Star reserve. 
Going on his fourth season with the Bulls, the star guard had raised his game in the 2020-21 season, averaging career highs in scoring as well as efficiency with the Bulls. LaVines scoring currently ranks seventh in the NBA, averaging around 28.8 points per game (NBA).
Zach LaVine has become the first Bulls player to be named an All-Star since Jimmy Butler in the 2016-17 season. This definitely has brought back the spotlight to the Bulls after the team went five years without having an All-Star player. " I feel that Zach LaVine has really made a staple on Chicago basketball and I feel that he has also really put his name on this franchise. As of right now, he is seventh in the league for points per game. The countless hours he puts in his game really shows and he is a really sweet player to watch nowadays. A lot of people underestimated his potential and now he is for sure proving people wrong." Senior superfan, Curtis Park said. 
The 2021 All-Star game is planned to be held in Atlanta, Georgia on March 7 at 6:30 p.m. ET.
About the Writer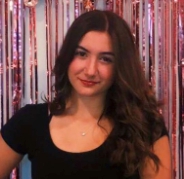 Hannah Freireich, Sports Editor
Hannah is a senior in high school. She enjoys watching and competing in sports. She is on the varsity tennis and on the basketball team. She also likes...