D219 Black History Month: What did you think?
Throughout the entire month of February, Niles North hosted enriching events every day to honor Black History Month. The events featured Black professionals sharing advice and inspiration, movies featuring Black actors, Ted Talks given by Black speakers, and many more memorable and powerful opportunities. North Star News would like to learn about your experiences throughout this momentous month.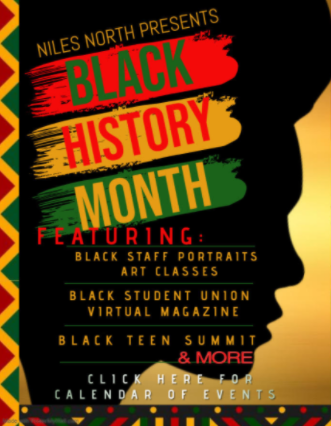 If you attended any of the activities during Black History Month, which event(s) did you attend?
"SOAR Presents: Black Professionals in Education at 3pm via zoom, Chef Demonstration with Lena Washington, Muslim Student Association Forum w/Brother Ubayd Ullah Evans "The African American Experience in The Muslim Ummah," Black Professionals in Film & Media."
"Cooking class with Chef Lena, Black Professionals in Film and Media, PASAxSASA Combating Anti-Blackness Seminar, Black Scientists Panel."
"I attended one outside of the district called Test Drive DefEx sponsored by The Defamation Experience (thedefamationexperience.com)."
"Panels, master class sessions, and more."
Do you have any comments about the event(s) you attended? 
"As a social studies teacher, I loved it, as it was a Zoom play then a discussion of a mock trial! The actors presented a trial-by-jury story of a Jewish man who accused an African American woman – who was a business associate – of stealing a necklace from his home when she had come to visit him for business purposes. It was a case study of the original intentions of critical race theory, which is to determine why convictions of black Americans in courts of law are more common than for people of other races/ethnicities. As a jury of people – adults from all over the United States who joined the zoom – we had to watch and "decide" the case as well as discuss biases we could have for both men/women and African Americans/Jewish Americans."
"They were truly wonderful. The panel was so powerful, the cooking class was fun, and the PASAxSASA workshop was informational and challenging. Students and staff did a wonderful job organizing these events and it was awesome to attend and participate."
"The live Zooms were universally excellent learning and relationship-building experiences. I also appreciate the links to TED talks and other videos."
Due to the pandemic, Niles North chose to host many virtual events to honor Black History Month. Would you like to see this continue in the years to come? 
"It was convenient to attend an event even if you could only attend for a portion of the time. It allowed for more opportunity and access to the different days and times the events took place, considering differing schedules each day. It really worked out well."
"I would love to see it continue! (If we do have zoom events again, could we have them later in the day as well? I attended an evening event outside of school, largely because my obligations to family kept my busy right after the school day.)"
"Virtual events (when paired with in person events) could help provide wider access to guest speakers who may not be able to travel to Niles North in person."
"Virtual events offer more options for people to feel comfortable. More participation and more choices are good!"
"I think that events like these are much more powerful and informative in person due to many reasons."
"I think it's a good way to show what is going on and how to get involved in a way."
"It's important for the people that are not educated and would like to know more."
Leave a Comment
About the Contributor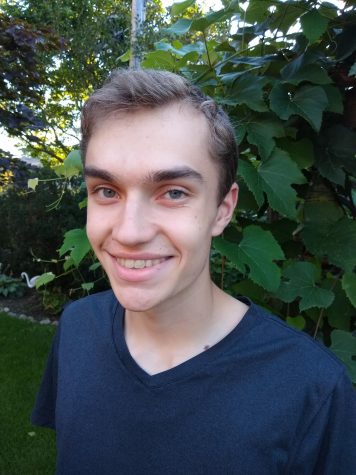 Aiden Stanciu, Managing Editor
Aiden is a junior at Niles North who has been part of the North Star News team since freshman year. He hopes to one day pursue writing as a full time career...