NN Boys' Swimming returns to the pool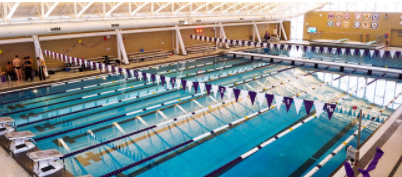 The Viking's Boys Swim Team kicked off their season with a dual-meet against Highland Park on Feb. 5, only two full weeks since the official return to practice.
The biggest difference? Each team was competing at their own school. Highland Park swimmers competed at their own natatorium, with their own officials, timers, and similar guidelines to what Niles North followed.
After COVID statistics forced the swim season to go "virtual" from late November to late January, the IHSA's January 19 announcement allowed the team to once again start training in the pool. Although the season's length has been shortened, both the athletes and the coaches were happy to return to the water. 
However, everything wasn't completely "back to normal."  Athletes, coaches, and officials were wearing masks throughout the entirety of the meet, with the exception of when an athlete was swimming. Sanitation tools were seen being used to clean chairs and starting blocks between events.  
Not racing their opponent face-to-face can cause athletes to lose focus or lose a sense of purpose in their swims, as they cannot physically see their competition. However, this is when individual motivation must kick in, something 3-time State qualifier Vincent Pi was able to speak on.
"
While racing without an opponent is new, the aspect where I have to go out and swim as fast as I can is not"
— Vincent Pi, 3-time State qualifier
"While racing without an opponent is new, the aspect where I have to go out and swim as fast as I can is not," Pi said. "I still go into my races with the same goal which is improving my times and trying my best."
Although Highland Park ended up winning 102-81 on the Varsity level and 90-82 on the JV level, Niles North still accomplished many great things. Many first-year members of the program experienced their first meet, the entire meet was conducted safely, and every swimmer on the team is now able to have a "starting point" for the rest of the season. 
Newcomer senior Kai Cattouse-Cowans spoke on the great potential this season holds, and his reaction to his first two weeks in the program.
"This sport really feels like a family," Cattouse-Cowans said. "Everyone came in with open arms…The work ethic is out of this world, and no other sport requires such a huge individual commitment. This is a great program and I'm looking forward to having a winning season."
The team has another virtual meet this Friday, February 12 against Maine East at 4:30pm. 
About the Writer
Devin Zakeri, Reporter
Devin is a high school senior, writing for NSN for the first time. He's a member of both the Niles North Swim team and Boys Soccer program, and is involved...