Reopening school: What do you think?
On January 29, D219 students were notified about family survey results regarding the return to school. At that time, the survey reported 31% of families said yes, 29% said no, and 40% did not respond. Because of these results, D219 decided to start hybrid learning on March 1. The poll results reflected here are snapshots of how readers responded within a 36 hour span.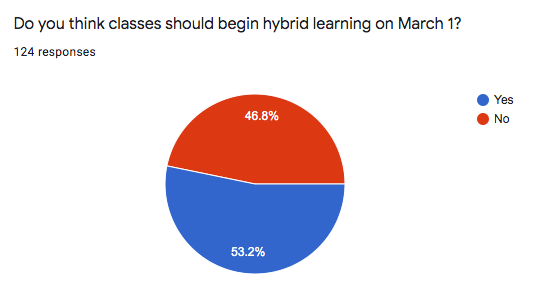 Yes, I think classes should begin hybrid learning on March 1:
Some kids, like me, are sick of being on Zoom, and staring at the computer all day is very tiring and bad for your eyes. Plus, I don't have to deal with loud family members disturbing me during class since I'll be in school while everyone else would be at home. Plus I think some people should get an opportunity to do hands-on activities, especially for classes like PE, science, or culinary classes. I want to see my friends as well but that doesn't mean I'd expect everyone to show up at once like last year.

Classes that include labs should try hybrid learning as students who take difficult science classes may have a passion for biology, chemistry, physics, and/or environmental science. AP exams without lab experience will be quite difficult as, "dry labs, " aren't nearly as helpful as actual ones. AP classes, in general, deserve more attention, otherwise the percentage of students scoring 4s and 5s on AP exams will be much lower than with hybrid.

I am so excited to finally be going back to school after one whole year! All though Corona is causing death and may seem as a risk, daily we are all faced with a risk of anything happening to us . High school shapes you and being Online doesn't do that. High school is a critical time period for us and online school took that away!

We've been at home for almost a year, and students and faculty deserve to come back and see each other in person again. Hybrid learning should start soon and not be held off. It should be safe and under safety precautions, but it would be a good option, especially for seniors, considering it's their last year at D219.

I think that we should start 2 weeks after spring break. Giving that it's not guaranteed families and students won't go out of town during their spring break it makes sense to prevent any exposure and give time to quarantine at home.
No, I do not think classes should begin hybrid learning on March 1:
I feel our decision is based upon parent pressure, not wisdom. We're in a pandemic. Why rush back to risk our health?

While remote learning is certainly not ideal, I do not feel that in this case the ends justify the means. Returning hybrid will undoubtedly increase the spread of the virus, put students, parents, and faculty at greater risk, require countless hours of logistical planning, and once again shift routines for students, parents, and faculty. And while students do need interactions, they also need stability and consistent expectations. Our school year is over by the third week in May, so in my mind this all just doesn't seem worth it. I think it would be better to identify students who need to be back because of social emotional reasons and then offer them safe learning spaces within the school from which to conduct their zoom sessions, socialize a bit (in a socially distant manner), and if need be, meet with counselors who are able to be back in the building. From a teaching and learning stand point, I'm not sure that a hybrid model is actually better and will ultimately be more stressful and less effective than 100% remote teaching / learning.

Most students and staff prefer to stay home since it is more safe for everyone this way. Online learning is definitely challenging and it has its issues no doubt about it, but it still works and is much better than going to school and risking the health of yourself and the people close to you. In my opinion, health and safety of the community is more important than "mastering all the learning targets."

The vaccine is not available for people under age 16, so many students and also many teachers and staff have not yet had an opportunity to be vaccinated. Even with safety precautions in place, I worry about spreading the virus between those who are at school and the families of the students and adults who we will return home to.

I do not feel safe going into the building all day long exposed to people who are not a part of my circle if 10. Being told that I must stay at my desk all day gives me anxiety just thinking about our restrictions.
Here are some questions from readers regarding reopening the school:
I

f we were to go hybrid, would buses be available, or does transportation need to be resolved on our behalf? 

How many days of the week would I be able to enter school?

I'm assuming hybrid extracurriculars are out of the question? 

How would masks function as we sit down to eat? Are there any sanitization stations installed for our materials? (There are students within our school who have created this technology that can be beneficial for our student body) 

If someone were to find themselves positive with covid, would hybrid learning automatically shut down? 

Would summer school hybrid learning be a possibility? 

How would changing clothes in P. E. work? 

Will paper homework be authorized for distribution?

What happened to the phase-in, with special needs students and EL students receiving priority? 

What is the racial makeup of the 31% of students who are returning? 

How can students make an informed decision if they DON'T know the period schedule and DON'T know the classroom setup (which sounds like basically a continuation of Zoom school, just in a room now with a few other people)? 

What happens if a person gets sick/exposed in a particular classroom? 

What has the school done to improve air quality in individual rooms? (not just filters for the whole building) Lots of rooms have no windows or windows that don't open.

What happens if a student does not comply with proper social distancing or improper mask wearing? 

What happens to the student? 

What are the district's metrics of infection rates both in school and in district to make the schools go remote? 

How will PE and locker rooms work? 

If students are comfortable returning to classroom learning but not being in a weight room/cardio lab (which are considerably higher risk) will they be able to opt out of gym, or should you just not return to school?

What will the schedule look like for the students? 

Will they stay the whole day? What about transportation for them? Will it be safe? 

Does the schedule take away class time for both teacher and students? What about lunch for them?

How many people are in each room? 

Where will we eat? 

What about study halls? What if someone gets sick with covid – will we need to shut down again? 

Will there be buses running for students who opted in to hybrid learning? 

Will the schedule still follow the current one, or switch back to the original bell schedule?

How often do students need to take their COVID testing? 

Who's contact-tracing students? 

Who's in charge of investigating any outbreak at school?

What time does the building open? 

Will there be a safe waiting area for students to wait for rides?

How will the freshmen go to their classes because they aren't too familiar with the school?

I am an EL tutor. Will there be a plastic partition/shield when working 1:1 with students?

Why do the people choosing online learning not get a choice to move back to in person?

Would it just be going back to school grade by grade or a mix of grades?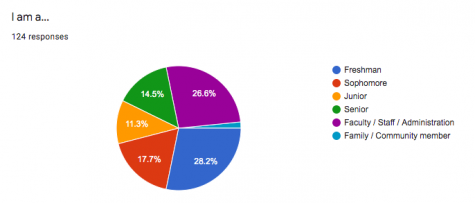 Leave a Comment