QuaranTEENed out!
As the fourth week of remote learning dawns, many teenagers are eager to get back to living a "normal life" after seeing the consequences of Coronavirus play out. But with all the free time that we have on our hands now, this gives us the perfect opportunity to delve into figuring out what kinds of fun activities we want to do after Coronavirus is no longer a major threat. North Star News wants to know what you look forward to doing the most.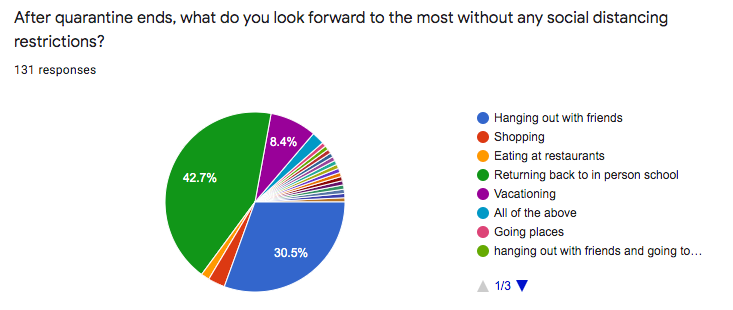 Although I look forward to all of the above, I think hanging out with friends is my top choice. This is because during this pandemic, many kids feel alone or helpless, and hanging out with friends can help with that. Especially because I'm a freshman, I want that support system and just seeing them virtually is not enough.
I haven't seen my friends in such a long time, and it would be great to just be able to go to the movies with them again without having to be worried about getting them sick. There's just something nice about spending time with friends in person, that you don't get while talking on FaceTime or texting.
I was always used to being a very busy person with not a lot of free time so not having anything to do is very different for me. I really just want to get back out and be able to bond with teammates and peers in extracurricular activities and get to know them in ways I wouldn't normally know them if it were just in class.
I would love to come back to school because I don't understand anything online. I miss my friends as well and want to get to know my new classmates and teachers. Also would like to go back to school to remember our friends who have passed away recently in our senior class!
I miss going out to eat at restaurants and having that in-person dining experience.
I don't have to wear a mask and also it's less nerve-racking shopping around stores because of social distancing, I won't have to worry about getting Corona Virus.
Most of my day is taken up with school and because of learning school has become a lot less enjoyable.
It would be nice to go out more with my friends. We would also get the opportunity to go to more places like the movies. I would also enjoy going out without having to wear a mask. I always forget my mask and then my parents get mad. It would also be nice to not have to constantly worry about being too close to someone else or getting scared when someone coughs.