Seniors: How are you feeling?
With the closure of school and all activities due to the Coronavirus, the North Star News journalism team asked how the seniors, who will be graduating soon, feel about these events.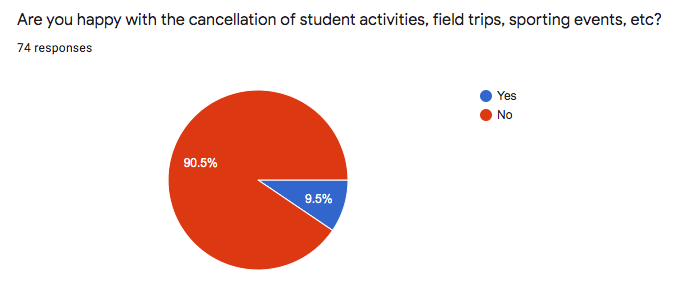 I am relieved that we finally get a break that we deserve, but I have been working all year for Debate State, and it got fully cancelled.
Yes, I am happy about having 2 weeks of Break, but what about the people who work at school (security guards, people who work at the cafe, maintenance, etc..) are they getting paid? How are they going to feed their family and pay bills? What about kids who have free lunch…..? I would like to know what stand are we talking to support them.
I feel sad that my second of semester of senior year, when I'm finally supposed to be enjoying high school and savoring the time with my friends, classmates, and teachers, I no longer can. It feels like my senior year has been shortened and come to an end way earlier than I was planning, and it makes me very, very sad even though I know these measures to protect us have been taken with great consideration. I hope I'll still be able to make the memories I want, that this pandemic comes to a quick end, and that everyone is safe.
I am happy that there is no school and we get some break time due to the Coronavirus. What I am not happy with is certain clubs or activities that are canceled like IndoPak and The winter fest. Hopefully as me being a senior I just hope that prom doesn't get canceled because as of seniors we would like to have some fun and enjoy our time towards the end of the school year as well as graduation.👩🏻‍🎓 🎓
It's not right to cancel Matilda. Like we've been working on it for months!
I have lost a lot of things in my life, things that were false promises, non consistent, or things that simply disappeared. For me, school was the one thing that was consistent in my life, the one thing that I could always count on. Now that that's gone, I feel as if i'm back to where I used to be, in a very negative space. Not many people know this about me, but I've been dealing with a sort of depression since last summer. I moved somewhere that just wasn't right for me, it made me isolate myself from everyone and everything that I loved. With that process I began to lose myself and forget the things that once made me happy. I decided that I didn't want to live that way anymore, and so I made a very big decision for myself and my well being to moved myself back to Illinois. Being here shaped the person that I am and I didn't want to lose that part of myself, now that I'm here I'm beginning to find my purpose and where I fit in, in the world and believe it or not, school plays a very big factor in that. I have never found a place that can greatly accept the person that I am, and what I have to offer other than school. So that's what I stuck towards and it helped me grow a lot, so that fact that I don't have it anymore bothers me a lot and at this point I'm not sure what I'm going to do.
I thought this would be the best and last year, but I didn't even get a chance to play my last game when I've been working out and going to off season. All our trips were cancelled. This was supposed to be our year.
I'm bored.
Well, I put down yes but to be frank it's kind of a mixed bag for me. I'm a transfer student who transferred here last year so to know this is the year that I really go to know the school and meet more people. Now to know that school is cancelled for a week and could very well be cancelled even longer than that is strange. One the one hand I want to come to school and participate in the club I helped found while on the other I'm glad that I can stay home and do my work from there. Either way I hope everyone stays safe during this pandemic so that we can all come out of this okay. Wash your hands!
No auto class or auto club.
I'm missing out on all of the things I've worked so hard for these past few months at school. It's my last of everything and there may not even a chance to experience all of those lasts.
The amount of work that was put into these events, shows, and concerts, etc all for then to be canceled since the federal government didn't know how to handle a situation seriously. The effort out in has been wasted. Being stuck at home trying to substitute a classroom environment is just horrendous we are stuck in front of a screen with no real life interactions. It's going to get depressing.
Simply put. NO AUTOS!!!
I'm happy that we took action in canceling school in order to avoid the spread of coronavirus. But it's our senior year and it sucks that the last 3 months are being conflicted because of it. Especially since it's not like we get to come back next year. Not only am I upset but many other students are extremely upset due to the cancellation of everything, and the talk about prom and graduation. We've dreamed and talked about those days ever since we were freshman and possibly even younger and now that, that is being stripped away from us no one knows how to feel or act happy. I really hope the spread of the virus decreases drastically these next few weeks so that it's safe for people to go back to school and work, and hopefully start back up/keep our events running!
We are missing out on our last few critical high school memories :((
I'm not happy about closing schools but I understand that it's for our safety. However, E-learning might be so hard and not understand the material. Also, our graduation might delay and by May 1st we have to decide what college to attend. Everything is going wrong. This is so sad.
I am able to work on myself such as: Stress and extra issues going on. Working alone at home, would keep me more positive during the day than sitting in class around 10-15 people.
For everyone's safety, I think staying home is the only choice we have.
Personally, I feel pretty upset that we are not able to compete in our spring sporting events, especially since it is my senior season. I have been playing soccer my whole life and feel like it was all leading up to this season since this is the year when we really decide our futures. I had already planned for some college coaches to come watch me play to see if I could get recruited for their teams, but as of now I feel cheated of that opportunity. I know that cancelling practices and games is the right step to take in order to keep everyone safe, but that doesn't mean I have to be satisfied with the situation. Also, if this virus keeps getting worse, the class of 2020 may not have a prom or a graduation. That would be devastating for all of us because we worked so hard these past four years to be able to walk across that stage and celebrate our successes as individuals and as a class.
As our last year, online schooling just feels really complicated and sad. Despite not always liking to go to school, we still make memories with our classmates and our teachers while being in school. And missing out on that really sucks. Staying at home quarantining dominants our senior year memories and kids that worked really hard on their extracurricular as our last year here, can't show that anymore.
I'm not happy not because all the school activities are cancelled but because everyone is panicking and does not get enough correct information about the virus; toilet paper is sold out, groceries are sold out, people fight for materials at stores etc because of these days' misinformation of effects of the virus. I really hope that everyone will be able to come back to peace and continue to achieve one's goal.
Being locked up in my apartment with the E learning is super stressful
One of the things I looked forward to the most in high school was my senior soccer season. Going to school wasn't my favorite thing to do but soccer always kept me pushing through it. I knew if I kept my grades up it would all pay off because I got to play soccer in the spring. Finding out that our season was cancelled for AT LEAST 2 weeks sucked. I read the email the school sent out and I was just shocked. I understood the reasoning behind it and the fact they want to keep us safe but I just wasn't ready for the news. Whenever I had a bad day I knew that I could forget about it all when I was with my team. But that's no longer the case.
All the things I like about school or gone, I love LatinX club and now I can't go to that, I wanted to audition for a Midsummers Night Dream because it's my senior year and it's something I've always wanted to do, and now I won't get the opportunity because the auditions were supposed to be the week before spring break, I'm also upset about the extracurriculars being cancelled because the choir concert, which we've been working hard to learn the songs for, was cancelled too.
Knowing that many colleges are cancelling the rest of the spring season (for sports) really doesn't put me at ease. The fact that this virus really took my senior year away from me made me really think that life is really precious. I didn't realize that these cancellations could really affect me, but not having the opportunity (hypothetically) to compete at sectionals/state or even celebrate the night of DM, Prom, and Grad night is kind of sad. I had all these plans to finally show my hard work and passion to my teammates and family, but I can't. This is not how I imagine my senior year ending (potentially), but unfortunately it's out of my hands.