What do you think of the Coronavirus (COVID-19)?
With the spread of the Coronavirus throughout the world, the NSN Journalism team wanted to know the Niles North's community's thoughts and how they have seen change in their lives. Here are a few of their responses.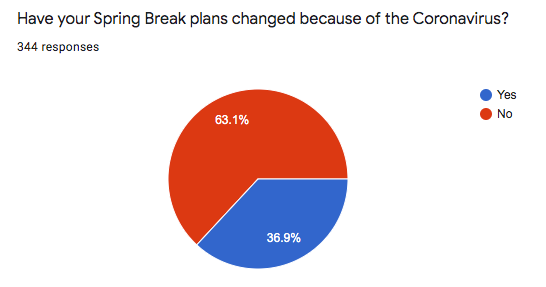 How has the COVID-19 affected you in your social circles, in school, at work, places of worship, travel, and athletic events? 
They cancelled the spring musical and not school and it really sucks because we worked so hard on it.

My friends didn't get to act in the Matilda play, attend State for robotics, and go to the DECA competition.

State competition for club getting cancelled/postponed, precautions of not touching people

It has impeded my ability to not only focus during class but for my classmates to focus as well. While people here may not have corona a lot of the people at school are sick and aren't covering their mouths when they cough or their noses when they sneeze.

I'm not allowed to go out to hang out in public that has a large number of people such as going to movies, business at work is being affected dramatically and there is a possibility of closing. There is also a fear of hate crime in the Asian American communities.

In church, it feels like we're rushed to give peace to others that our priest just lets us say hi to others by waving.

Stuff keeps getting cancelled for example swim meets and now I might not be able to visit my grandpa in Canada 

The Climate Change Keynote at Loyola and my mock trial overnight trip were both cancelled.

I've changed my habits, and have become conscious about touching things like doorknobs and mice and keyboards, making sure to sanitize my hands after using them.

Our Texas meet was cancelled and it ruined a once in a lifetime chance.

I was supposed to go on college visits over spring break, but many of the schools I was supposed to visit will be closed and my tours are being cancelled. 

I'm a lot more cautious and aware of the things happening around me.

I've had limit a lot of my daily things and I've needed to be extra cautious with everything

I'm scared to talk to others and be in public places.

It has made me more aware of how much I touch my face and share spaces. It's a bummer since school trips have been cancelled, and we're in danger of having to cancel some future international trips which directly events my students.

It really doesn't bother me that much… I think people are overreacting. Obviously this is really serious but I think we can easily overcome this virus.

I have some friends that have family in other countries that are strongly affected, it's causing concern. Some of my family are also opting out of flying places for spring break.

COVID-19 hasn't really affected me in any major way. I am sanitizing or washing my hands before every meal now, and I'm careful not to touch my face – but no one I know has gotten sick with anything that could be COVID-19, and I'm not very worried since it is mainly dangerous to people with weak immune systems.

The only thing I'm doing more often now is making sure that my hands are clean. It hasn't really affected me personally in school or anywhere else.

My students are writing about appalling examples of anti-Asian racism that has happened to them and to their family members as a result of the coronavirus.  :/

People keep talking about the virus because there's fear or anxiousness about it whether it be school or when I hang out with people. A family member told me that Chinese people are "stupid" for letting the virus happen even though I am part Chinese and a friend jokingly called me "coronavirus." I also used to hang out at Chinatown almost every week, but people don't really want to go there anymore so I haven't been going as often. My parents have been buying in bulk more so I think they are scared too which makes me feel uncomfortable about what's to come.

I'm hyper aware of who is showing flu-like symptoms and I keep my distance from them. I also hesitate to share my writing utensils with others and use hand sanitizer/wash my hands after each class. I do this not because I worry about how my body will handle COVID-19, but because if I unknowingly carry the virus and spread it, there are broader ramifications to the community. COVID-19 is extremely dangerous to the autoimmune suppressed and elderly people with whom I have regular contact, including my elderly mom who has an underlying health condition. Our community should rally around those who can't protect themselves by practicing social distancing and staying home when we're sick.
Do you have any good advice to keep our community properly informed, safe, and/or calm?
Stay up to date with the news, have an ongoing chat with your coworkers and relatives and use sanitary precautions and especially avoid large crowds.

Don't share food, wash your hands after you use the bathroom, and keep your personal things cleaned/sanitized.

Wash your hands and cough and sneeze in your elbow. Be safe – but CONTINUE TO LIVE YOUR LIFE AS YOU NORMALLY WOULD!!

I am just typing this you to express some concerns Myself and my friends have about the health safety at our school. A lot of the students here seem to be sick and with the coronavirus crazy going on I think that not enough people know about proper health etiquette. My friends and I have seen and come into contact with people coughing or sneezing without covering their mouths. Just the other day someone coughed behind me and I felt it on my neck. I would recommend maybe having a section or a slide during the presentation to address proper health etiquette  like covering your mouth and nose when sneezing and coughing as well as washing your hands for 20 seconds. It is impeding our ability to focus during class because we are afraid of getting sick. 

Look at reliable sources about the Coronavirus. Listen to the CDC and all that jazz and don't listen to the media who throws it all out of proportion. The virus really only affects people with weakened immune systems, like very young children and very old people. Just wash your hand and you'll be fine.

Your parents have been telling you these tips ever since you were born. It's like any other cold or flu:
– Wash your hands
– Keep your distance from ill people and closed spaces with a dense people population 
– Always have a hand sanitizer  
– EDUCATE yourself and other people! This coronavirus is NOT deadly. The most risk are only elderly, sick, or infants
– Limit how much news you watch. This will help you calm down from the situation
Stay home. Don't go out if you don't need to. You really should cancel school. Waiting for someone in the district to get COVID-19 is ridiculous. By that time, it would be too late. Everyone at school would be exposed and that would put US in danger. Is that really what the school wants? Please cancel school and avoid this spread. Putting kids and their families and everyone we come in contact to will overflow hospitals and clinics and take attention away from people who really need care.

Not that much. It's honestly not that big a deal, it really only harms people with weakened immune systems like babies and old people. The media is just making it seem worse than it really is, so I'm not bothered.

Practice good hygienic habits (which you should be doing anyway), be kind to others during this difficult time for everyone, and remember that there's no room for hate or hateful comments, even if you think it's a joke. Just be kind, it costs nothing!

Nothing much, but I think it's very over exaggerated and that impacts students work and mental well being. 

If someone is sick, they need to stay home. If someone has the Flu, a cold, or any symptoms of sickness, they absolutely need to stay home. Now is not the time to worry about absences. Keeping everyone safe and healthy is much more important than any class or material that you are missing. If you are canceling extracurricular activities and events just to prevent risk of spread, you might as well cancel school. 

Don't let panic overwhelm our social morals and understanding.

School might as well be online if all after school events and sports are cancelled.

Stop canceling major events and focus more on simple things such as hand washing as cancellations enact unnecessary stress/worry 

Think about all of the things you're constantly touching and let that be a reminder to wash your hands! i wash between most classes during passing periods.

Give everyone a small bottle of hand sanitizer that they can keep

Everyone is taking more precautions to avoid/cancel any social gatherings which could potentially lead to the spread of the virus.

Stop worrying so much.

Tell people the actual facts.

Don't high five me cuz I don't wanna touch anyone's  hands don't take it personally but I don't wanna touch anyone

I have to be cautious about everyone and everything now. It cancelled most of my vacations were I won't be able to visit or even be with my family.