Cozy up to this February book recommendation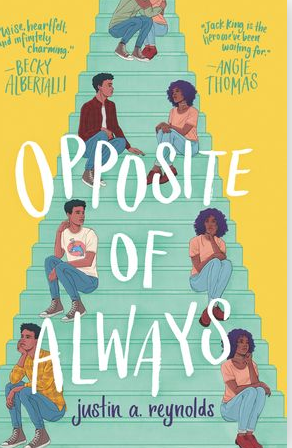 If you attend book talks in the library, you've probably noticed I don't read romance novels. Justin A. Reynolds recently changed my ways with Opposite of Always. 
Jack King, a high school senior and self-professed "King of Almost", explores the impact of second chances. Jack instantly connects with Kate at a college party, developing a vibrant relationship that suddenly ends four months later with Kate's death. 
When Jack is pulled back in time to the moment he and Kate meet, he cannot believe his luck – he has a chance to change the future. But will making different choices save her life? And how might it affect the other people depending on Jack? 
His best friends, Jillian and Franny/Francisco, both experience significant personal hardship that could distract Jack from Kate's survival. Or is Kate distracting Jack from supporting his friends and parents? 
It's clear Jack's friends and family aren't thrilled with his new obsession. By trying to save Kate's life, Jack may ruin every other relationship he has. How many do-overs does one guy get?
Justin A. Reynolds writing is clever, humorous, and heartfelt. I read this book with a big goofy grin on my face, it's just that cute. If you need a little romance this Valentine's Day check out Opposite of Always.