Movies to anticipate in 2020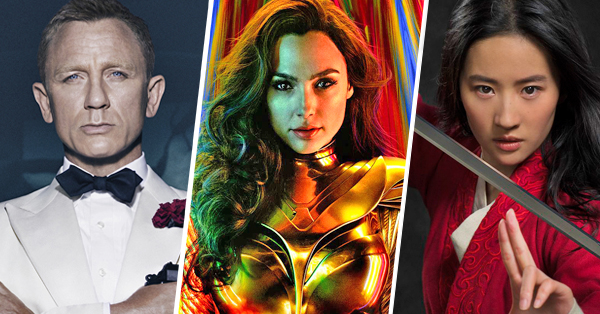 With 2019 coming to a close, multiple movie trailers have been released to get viewers excited for the upcoming 2020 films. This December, trailers for Mulan, Wonder Woman 1984, Black Widow, Ghostbusters 3: Afterlife, and many more have been released.  
The Mulan live action film has been highly anticipated due to the success of the animated film released back in 1998. The trailer was released on December 5 and has garnered 9.5 millions views as of December 16 and although the film was set to be released on November 2, 2018, its new release date will be on March 27, 2020 with lead Chinese actress Liu Yifei playing the role as Hua Mulan.
Wonder Woman 1984 is the ninth installment superhero film by DC Films. It is a sequel to the 2017 Wonder Woman and is scheduled to be released on June 5, 2020. The live action movie will be based on Diana Prince as she comes in conflict with Maxwell Lord and Cheetah. Although the film hasn't been released yet, director and co-writer Patty Jenkins announced that the plot for a third Wonder Women is currently being constructed according to The Hollywood Reporter.
The long awaited first Black Widow film will come out in theatres on May 1, 2020. Black Widow first came to screen in the 2012 hit, Iron Man 2, but the character never got her own individual film. Eight years later, Marvel is releasing a film that will follow Natasha Romanoff and her events after Captain America: Civil War as she is forced to confront her past. 
"Yes, seeing Natasha take the screen in a movie all her own is emotional on its own, but there's something about this trailer that shows the beauty and power that Natasha Romanoff held and that the MCU never really explored" says Rachel Leishman of The Mary Sue. "Her mystery, her past, all comes from what happened to her with the Red Room, and seeing her "family" as it was… it means a lot to fans who have wanted to know more about Natasha as a character." 
Ghostbusters: Afterlife is a fantasy comedy film and will be the fourth installment in the Ghostbusters franchise. It will be a sequel to the 1984 Ghostbusters as well as the 1989 Ghostbusters II. After the underwhelming performance of the 2016 Ghostbusters, writer Reitman began developing a sequel to the two original films with new and old members. The film is set thirty years after the second movie and will follow the plot of a single mother and her two kids learning secrets about their town according to Vanity Fair. The movie is scheduled to be released on July 10, 2020.
Although there are many more movies expected to be released, these were only a few of the films to get individuals excited for 2020. Start saving up early for movie tickets! 
About the Contributor
Darlene Sese, Reporter
Darlene is a 17 year old senior at Niles North. She was born in the Philippines and moved to Skokie when she was 5. Her interests include art, listening...