Update on the impeachment inquiry of president Trump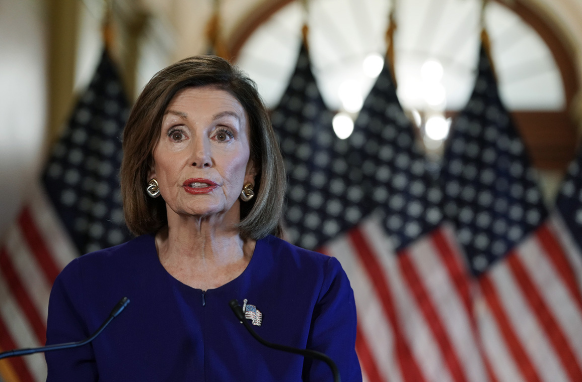 The Democrats in the House of Representatives, led by the Speaker of the House Nancy Pelosi launched a formal impeachment inquiry into President Trump on September 24.
This inquiry was announced by Pelosi in response to the alleged extortion of the President of Ukraine, Volodymyr Zelensky by President Trump, and allegedly asked Zelensky to look into and find damaging information about former Vice President Joe Biden and his son Hunter Biden. This was called out after the President  withheld $250 million that was to be given to Ukraine so as to provide protection against Russian Imperialism into Ukraine.                                       
Pelosi stated that, "The actions of the Trump  presidency revealed dishonorable facts of betrayal of his oath of office and betrayal of our national security and betrayal of the integrity of our elections." These powerful statements were made in an effort to sway the American people towards impeachment.  
A transcript of the phone call was released this past week concerning the call in question between President Trump and President Zelensky.  
When asked about what students should keep in mind about this process as it continues, Social Studies Pankaj Sharma said, "It's very hard to know how this process will go or where it will end up." 
The impeachment of the President of the United States is a drastic and impactful course of action to be taken by congress, and has only happened three times before this, the presidents to be impeached before this were Andrew Johnson in 1868, and Bill Clinton in 1998, who were both impeached by the House of Representatives, and acquitted by the Senate. The other president was Richard Nixon who in the midst of the impeachment process, facing certain removal from office chose to resign. 
When asked about whether or not this case of impeachment comes close to that of Richard Nixon or Bill Clinton, English teacher Barbara Hoff said, "This is much closer to the impeachment of Richard Nixon than that of Bill Clinton since it focuses on the misuse of presidential power for personal gain.  Clinton's impeachment was about trying to conceal personal immorality as opposed to trying to conceal unethical/illegal use of presidential power."
 In the coming days and weeks it will be interesting to see where this case of impeachment will go, but one thing can be certain and that is that no matter what happens it will be a landmark in American history.
About the Writer
Ian Imhof, Reporter
Ian is a senior at Niles North High School, who runs Cross Country, and is a 17-year-old reporter, who enjoys writing about politics, the presidency, world...