NN grad Fernandez gets 10M views on TikTok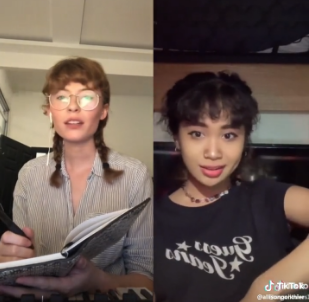 Niles North class of 2018 graduate Kim Fernandez is a memorable theatre actor who now has about 350,000 TikTok followers and more 5 million likes. 
        TikTok is a video based application formerly known as Musical.ly. It differs from other social media platforms because users have the option to lip-sync.
        It also gives the option to duet with someone, which allows a video to be beside another. A collaborative TikTok duet series called Infamous Delinquent is about two girls who met in detention. Ramona, a lesbian deviant played by Fernandez, approaches her nerdy love interest played by musical artist Allison Ponthier.       
"Infamous Delinquent on both accounts reached 
more than 10 million views."
         Ponthier made a TikTok duet with Fernandez, which made them both known in the TikTok community.
"I didn't expect it to blow up to be honest," Ponthier said. "It's just crazy to see millions of people enjoying it. I also gained 200,000 subscribers. But I also gained a new friend, Kim."
"I now get recognized in public…There's also some down sides: stalkers and clout chasers and stuff. I have to be careful when I'm making new friends," Fernandez said.
Fernandez has recently been contacted by TTD Eye and Focallure about collaborations. Her series may turn into a graphic novel, too. 
Fernandez is pursuing her acting dream.
When at North, Fernandez participated in 12 plays and has been the female lead in 4 of them: In The Heights, Little Prince, the Matchmaker, and Tick, Tick…Boom! 
"I didn't even think I could ever do it," Fernandez said. "I mean it's definitely out of the norm for what a Filipino 'usually does.'  I kept putting myself down about how impossible it was…I realized my junior year that I was actually going to try to pursue it. (Acting) wasn't just a hobby I enjoyed any more, but a passion I wanted to pursue for my future." 
Check out a short film starring Fernandez about Asian American identity which represented the Niles North PASA club. 
@angelknives13 (Kim's TikTok & Instagram)
@allisonponthier (Ponthier's TIkTok & Instagram)
About the Writer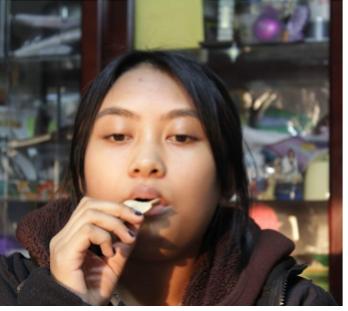 Lanie Mae Rasay, Content Editor
Senior. Filipina-American. Raised in Vegas. She is the VP of PASA, part of Climate Change Club, and interested in several other clubs. She spends the rest...