Trump addresses nation; calls for border security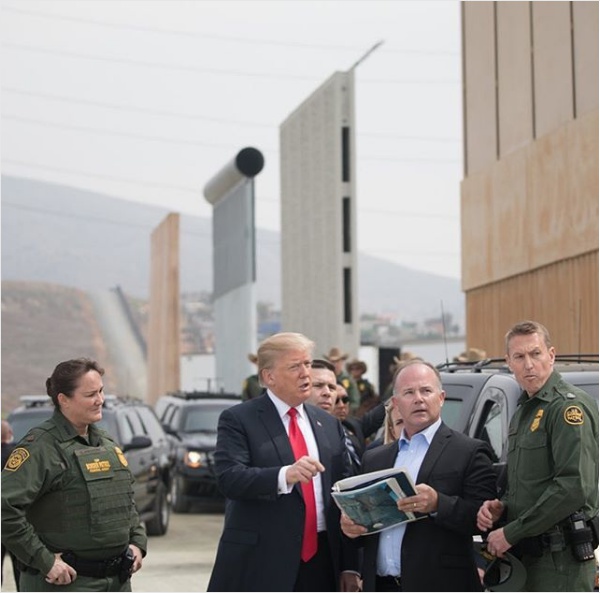 On Jan. 8, 2019,  President Donald J. Trump addressed the Nation on immigration, the border wall, and the government shutdown.
Trump's points
Donald Trump started his address to the Nation by saying, "My fellow Americans. Tonight, I am speaking to you because there is a growing humanitarian and security crisis at our southern border." this introduction preceded his discussion on the growing humanitarian crisis on the southern border.
In his presidential address, Trump commented on many things such as our southern border and is quoted as saying "This is a humanitarian crisis. A crisis of the heart, and a crisis of the soul. Last month, 20,000 migrant children were illegally brought into the United States, a dramatic increase. These children are used as human pawns by vicious coyotes and ruthless gangs."
He continued, "Finally, as part of an overall approach to border security, law enforcement professionals have requested $5.7 billion for a physical barrier… this barrier is absolutely critical to border security." Throughout the rest of his speech Trump went on to give examples of the outcomes of illegal immigration and how the U.S. should stop it.
In the end of Trump's speech, he was quoted as saying, "My administration is doing everything in our power to help those impacted by the situation, but the only solution is for Democrats to pass a spending bill that defends our borders and reopens the government."
This last line is what fueled the Democratic response by threatening to not open the government if Democrats don't pass a bill that would pay for the wall.
Response to the president's address
After Mr. Trump's nine minute speech there was a scheduled Democratic response to his address. Speaker Nancy Pelosi and Senator Chuck Schumer gave the Democratic response. Pelosi's main point was the government shutdown. Pelosi started her speech with the following:
"I appreciate the opportunity to speak directly to the American people tonight about how we can end this shutdown and meet the needs of the American people. Sadly much of what we heard from President Trump throughout this senseless shutdown has been full of misinformation and even malice. The president has chosen fear. We want to start with the facts."
After this, Pelosi continued her argument of how women and children trying to cross the border are not a security threat and how there are other ways to secure the border than holding our government on a shutdown until we get a wall.
Next up was Senator Schumer who started off his speech by saying, "The president of the United States, having failed to get Mexico to pay for his ineffective, unnecessary border wall, and unable to convince the Congress or the American people to foot the bill, has shutdown the government. American democracy doesn't work that way.
Later in his speech, Schumer proposed a solution. He suggested that "[t]he symbol of America should be the Statue of Liberty, not a thirty foot wall. So our suggestion is a simple one. Mr. President, reopen the government, and we can work to resolve our differences over border security. But end this shutdown now."
Currently the government is still on shutdown as of writing this (1/14/2019) and there is no progress in the argument over the wall.
Eli's Points
What I mainly took away from Trump's speech was his complete willingness to use the U.S. government as leverage to further his own agenda. Right now, our country is being affected in many ways because of this shutdown.
Certain government employees are not being paid
Many agencies are sending people home such as the Fish and Wildlife Service and the National Weather service. In addition some law enforcement personnel are not being paid and TSA agents as well due to economic conditions during the shutdown since these people are paid with taxes
Many national parks are closed
Many national parks are closed due to little government funding during the shutdown and little staff due to staffers not being paid as well as little to no janitorial staff to clean up these parks.
Popular opinion toward government
Many people who have stood behind their government are switching their opinion toward the government due to worries of not getting a tax refund or not getting paid.
Fact check
Here are some of Trump's points in his speech along with excerpts of fact checking that was done by a variety of journalists and reporters from the New York Times.
"The federal government remains shut down for one reason and one reason only: because Democrats will not fund border security." (Trump)
At a meeting with Ms. Pelosi and Mr. Schumer in December, Mr. Trump took responsibility for the partial government shutdown. "I will take the mantle. I will be the one to shut it down. I'm not going to blame you for it," he said." Linda Qiu, NYT Reporter
"Every week 300 of our citizens are killed by heroin alone, 90 percent of which floods across our southern border." (Trump)
"Most heroin smuggled into the United States does come through the southwest border, according to the Drug Enforcement Administration's latest National Drug Threat Assessment report." Michael Tackett, Author
"The border wall would very quickly pay for itself." (Trump)
"The president has claimed that the annual cost of illegal drugs in the United States is $500 billion. But a 2015 report by the surgeon general estimated that the annual economic impact of illicit drug use is $193 billion. Stopping the flow of drugs across the southwest border would not entirely stem the flow of drugs across the United States. Moreover, it is not clear how reducing the cost of drug addiction would finance the wall." Allan Rappeport, NYT
"America proudly welcomes millions of lawful immigrants who enrich our society and contribute to our nation, but all Americans are hurt by uncontrolled illegal migration. It strains public resources and drives down jobs and wages." (Trump)
"Some economists argue that immigrants drive down available jobs and wages for Americans only if they are competing for the same jobs as the domestic workforce. In many cases, immigrants — legal or illegal — are seeking jobs that American citizens do not want to do. Kevin Hassett, the White House's top economist, argued before joining the Trump administration that immigration spurs economic growth and that the United States should double its intake of immigrants." Allan Rappeport, NYT
If you would like to learn more please visit CNN.com or Whitehouse.gov.