Senior Playlist: Bella Carmela's last four years of music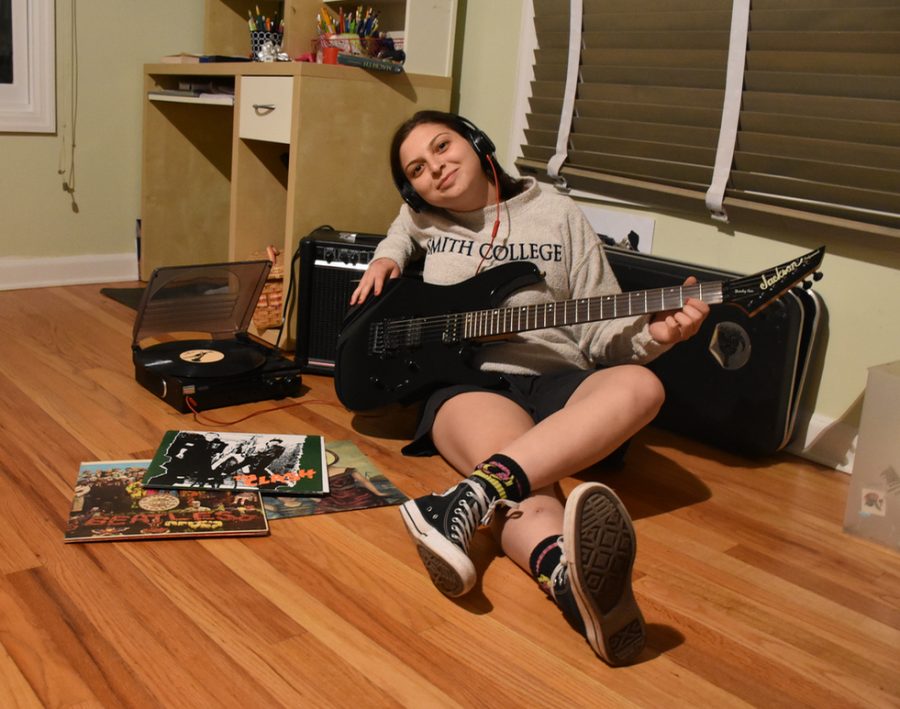 As I prepare to graduate from high school, I find myself spending time reflecting on all that I have accomplished at Niles North. Although it has evolved and morphed, one constant staple in my life has been music. Music has always been the background to all my memories as a high school student. It has connected me with people and driven experiences. These are the songs and artists that have meant the most to me from year to year at Niles North.
Freshman Year
"I'm So Bored With the U.S.A." – The Clash
For my 14th birthday, I got a record player, and it changed my life. One day, my fingers were streaming down the cases of records at the old Reckless Records on Milwaukee Ave., and I stopped at a cover with a black-and-white photo of four punk rockers with green around the edges. This was my first album I ever bought: the Clash's self-titled album. This album filled my quota for teen angst and gave me so much more to be mad about. I played the record over and over again until I was able to scream every word along with Joe Strummer.
"No. 1 Party Anthem" – Arctic Monkeys
Going into freshman year, my friend and I sat in the back of her mom's car singing Arctic Monkeys on our way to Milwaukee to see our very first concert. Alex Turner was certifiably my boyfriend by the end of the show. While none of the songs on AM were at all relatable to me on any level, the hazy indie rock classic was my freshman year soundtrack.
"Mortal Man" – Kendrick Lamar 
It was 15 years into this century and my brother and I were already raving about the best album of the century. To Pimp a Butterfly played over and over again while we tried to decipher every line of the album.  Kendrick Lamar opened me up to a world I had never thought or knew about. He changed my preconceived notions of what a rap album could do and made me confront racism in America.
Sophomore Year
"Fill in the Blank" – Car Seat Headrest 
All my feelings about being an isolated teenager came to light when a lo-fi garage rock band famous for making music on laptops in cars and bedrooms released an album that shook my world: Teens of Denial. I was not the only one who had been blown away by this album; it was on the top of many music journalists' lists when it came out in 2016. I have never gotten sick of this album, to this day playing it on repeat over and over again. Will Toledo knows exactly how to layer a long guitar breakdown and read strange things he wrote in diaries into a 70-minute album, and make it work at the same time.
"Holland, 1945" – Neutral Milk Hotel
You can read countless articles how throughout the past two decades since the release of In the Aeroplane Over the Sea, young people have picked up this album and instantly changed their life. Even North Star News' Sam Mwakasisi has written one. Like many others before me, this album was an instant classic in my book. I was drawn to the magical amazement of scenes described like a distant childhood memory. Pitchfork's Mark Richardson described the album as "the kind of record that causes you to look at where you are and where you came from and think about what's important." This was exactly the kind of album I needed as a 16-year-old and has made me think about new things every time I put it on the turntable.
"Pedestrian at Best" – Courtney Barnett 
"Give me all your money and I'll make some origami, honey." The first time I heard that line, I knew Courtney Barnett was going to go down as one of my favorite artists. Her rebel girl attitude mixed with word play made my head bang sophomore year, and she continues to make music that blows me away.
Junior Year
"Old Friends" – Pinegrove 
While I seem to have a love of nerdy white boys making music, Pinegrove brought me a new love for a hipster genre of unsatisfied young men. Evan Stephens Hall sings about loving his friends and the repetition of everyday life that made me feel all cozy as it played on repeat in my junior year.
"Mo Money Mo Problems" – Notorious B.I.G.
Junior year was the year I found '90s rap. I went through album after album from Nas to Tupac. I always came back to Biggie as my favorite for his East Coast gangsta rap style. I remember late nights driving with the windows down and blasting Life After Death. 
"Outside with the Cuties" – Frankie Cosmos 
Frankie Cosmos is a cute, goofy singer-songwriter that my friends and I cannot get enough of. We would take out a guitar and have a sing along to all her songs. Each song on her new album, Vessel, is about a minute and a half, so we would get through her whole album in 20 minutes and have big smiles on our faces the whole time.
Senior Year
"With You" – Twin Peaks
In my senior year, Twin Peaks became my obsession. I would follow them all over Chicago to record stores and basements to hear them play. Not only would I follow their main band, I also followed all of their side projects. They are at the center of messy fun on the DIY scene of the North Side of Chicago, and I will definitely miss going to secret locations and waiting for hours with DePaul students to see these boys play.
"A Day in the Life" – The Beatles 
I've always been a huge Beatles fan, but ever since I took a class about the Beatles on our journalism trip to San Francisco, I can't stop thinking about this song. The professor went through the song line by line to dissect its meaning. Now, as a senior, I sit in gym class and play this song endlessly.
"Lift Yourself" – Kanye West
Not only will this year go down in history as the year Kanye lost all his fans (only to regain them when he drops his album), it is the year I fell in love with West. I started out my senior year making my most iconic zine about how I am in love with and have spent a majority of the year listening to West's albums. Then this year, he amazed the Twitter community with a joke song where he raps gibberish such as "poopity scoop". But Kanye, I am surprised that I'm still a fan and you have made it on to my special playlist.
"Roadrunner" – The Modern Lovers
My final song is for next year. Made by Jonathan Richmond, the song is about driving around late at night in Massachusetts, something that I will do a lot next year at Smith College.  These past four years have been fun and the music I have listened to has shaped much of my experiences, and I can't wait for next year to listen to more music and make new memories.