Asian Americans who have impacted the United States
Hang on for a minute...we're trying to find some more stories you might like.
There have been many people in the history of the United States who have impacted the country in a positive way. Since May is Asian American and Pacific Islander Heritage Month, here are a few Asian Americans who have had a lot of influence in the United States.
Dalip Singh Saund
Aneka Amerika/American Miscellany (1957)
Saund, who was born in India, was the first South Asian elected to Congress in 1956. He was elected from the 29th California district. He, unfortunately, suffered from a stroke during his campaign for his fourth term. He later died in 1973. He was born in the Punjab Province of India in 1899 and he was inspired by Abraham Lincoln, Woodrow Wilson, and Theodore Roosevelt. He was also inspired by Mohandas K. Gandhi.
Steven Chu
U.S. Air Force Photo/Staff Sgt. Samuel Morse
Chu is the son of two immigrants who moved to the United States. Chu was born in St. Louis in 1948 while his father worked at Washington University. They later moved to New York because of the public school system. Education was emphasized greatly in Chu's family and it was a surprise when he only got one advanced degree. He then went on to be the co-recipient of the Nobel Peace Prize for his contributions to laser cooling and atom trapping. He also became the twelfth secretary of energy from 2009 to 2013.
"In the scientific world, people are judged by the content of their ideas. Advances are made with new insights, but the final arbitrator of any point of view are experiments that seek the unbiased truth," Chu said.
Maya Lin
Oregon State University/Flickr
Lin was born in 1959, also to Chinese immigrant parents. She attended Yale University, where she studied architecture and sculpture. She was later chosen to make a design for the Vietnam veterans memorial. The design was controversial because it wasn't designed the same way as most memorials. She also created a monument about the civil rights movement and it included a quote from Martin Luther King Jr.'s "I have a dream" speech. Lin even received the Presidential Medal of Freedom from Barack Obama in 2016.
"To me, the American Dream is being able to follow your own personal calling. To be able to do what you want to do is incredible freedom," Lin said.
Patsy Takemoto Mink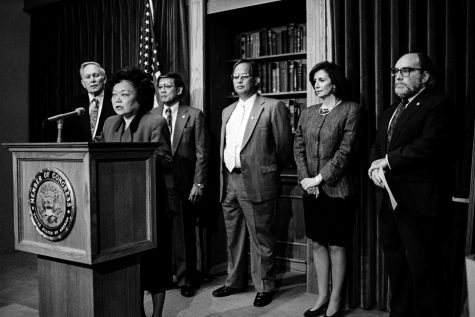 Library of Congress/ Flickr
Mink, who was born in Paia, Hawaii in 1927, was the first woman of color to be elected to Congress. Mink first became a lawyer after graduating from the University of Chicago Law School. She opened up her own private practice and she also lectured at the University of Hawaii in business law. It was in 1959, when Hawaii became a state, that Mink set her sights on running for the House of Representatives. She got the seat in 1964. In Congress, she actively advocated for equal rights and she even got Women's Educational Equity act passed in 1974.
"I always felt that we were serving a dual role in Congress, representing our own districts and, at the same time, having to voice the concerns of the total population of women in the country," Mink said.
All of these people have left their marks on American history and it is important that they are recognized and remembered for all they have contributed.