Senior Playlist: Four years and far beyond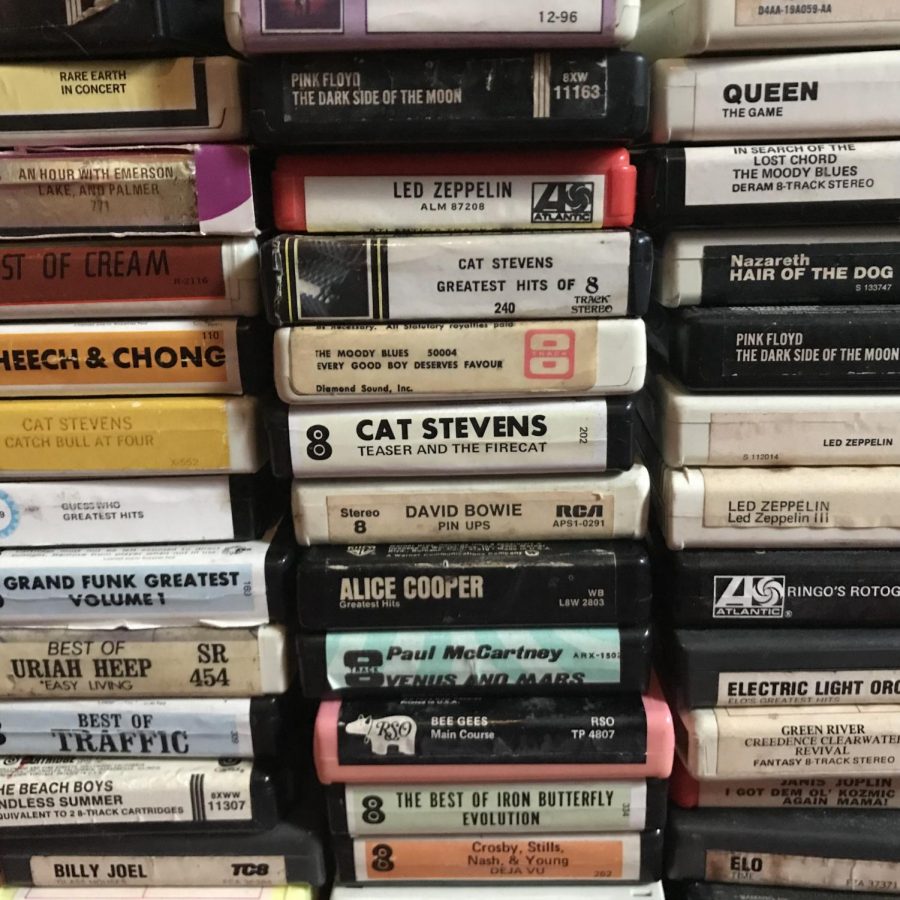 While high school has been a wild ride from beginning to end there has always been one constant through these four years: Music. My friends have always been able to pinpoint me in the hallway because of the red headphones that have always adorned my head. That being said, most of the time they couldn't get my attention though because more often than not my music is turned up to 11. Since I have always been jamming 24/7, my tastes have taken drastic turns and my library and knowledge of music was growing immensely. Here is a look at the most defining tunes of my high school career, and what is further down the tracks.
I had a rough few years leading into high school, but I thought of my freshman year as a big, fresh start … for everything but my music taste. I was raised on The Beatles, Monkees, and 70s one hit wonders and it wouldn't be until the end of my freshman year that I would fall head first into my record obsession that had died down though I had started my collection when I was only 8. I thought I was super cool when I started listening to bands like The Velvet Underground, Alice Cooper, and The Who because they were all bands under the radar of my peers. I grew connected to "Rock & Roll" by The Velvet Underground, and I still am, because I had never really felt that a song was actually about me. Just like the girl Jenny in the song, my life had too been "saved by rock 'n' roll" and it was only gonna become enveloped in it in the future. "Teenage Lament '74" and "My Generation" were another two songs that portrayed that classic teenage angst that 14 year old Kate loved.
As my sophomore year rolled around I was getting more into older music and discovering artist that I had previously ignored. Of course, most of them had a few hits that I had heard on stations like The Drive, The Loop, and wXRT, but I had never thought anymore about them. I would consider this the time that I also discovered subgenres of rock and the first one was Glam Rock. Two years before my sister had introduced me to David Bowie, and his album The Rise And Fall of Ziggy Stardust and The Spiders From Mars but it really wasn't until high school that I got into his more obscure stuff. "Move On" from the album Lodger stuck with me and got me through his passing in January of that year. I'm able to connect each artist directly from this year because it was such a linear path of discovery. From Bowie, I found a video of him performing with some wild cat named Marc Bolan. Bolan had the curliest locks, glitter under his eyes, and a guitar strapped around his back. I fell in love and was certain he was singing to me in his track "Baby Boomerang." Also branching off from Bowie was Ian Hunter. The two artist shared the same guitarist Mick Ronson, who of course I was also in love with, and "Once Bitten, Twice Shy" became one of my lingering anthems.
Glam Rock led straight to Progressive Rock and I was following that line as far as the eye could see … or maybe as far as Spotify's artists list went. You know you've fallen deep when there is literally only one song by an artist on their iTunes and Spotify pages, or if one doesn't exist at all. I started off as basic as you could get when I wanted to get into this crazy genre and the most obvious choice was Pink Floyd. From Piper At The Gates Of Dawn to The Endless River, it was all pure gold. And if you ask me now "The Gold It's in The…" 1972 album Obscured by Clouds. Syd Barrett's classic band then led me to the deep voiced Kevin Ayers. And, you guess it, I kinda fell in love again. By now, it was really becoming an issue. My phone background was changing to another gorgeous, but most likely dead, rock star weekly. "Don't Let It Get You Down" stuck with me after I lost two people very close to me, and my dad suffered from his first heart attack. The expression "saved by rock 'n' roll" was becoming even more important to me. Adding onto that was Ayers line "Don't let it fool you in any way/You know your tomorrow depends on today/If you're carrying nothing it won't weigh you down/You are the king and queen, you are the crown."
With my main costume this year being Christine, aka a killer 58′ Plymouth Fury, I have gotten into character before conventions with a mix of blue and 50s rock blasting from my speakers. This era was blended into everyday life as well and I can't help but put on Bo Diddley's "Road Runner" on on a daily basis. My introduction to blues was mainly through a mysterious VHS tape given to me with a stack of record from one of my moms friends. Obvious, I was wary to see what was on the tape but the most amazing guitar playing I had ever heard came through as soon as I pushed that vintage tape in. This wasn't my first introduction to Stevie Ray Vaughan but since then his performance of the song "Wall of Denial" has stayed with me. From Vaughan, I was introduced to Rory Gallagher and his song "Don't Know Where I'm Going."
I'm both happy and sad to say goodbye to North Star News. I am more than satisfied with the work I have done for this publication, but I also never want this to end. I'm excited to move on, but I will miss the people I have learned to call family. I can't wait to see what my future holds, but I will also continue to look back. I will be "In The Street" "Watching The Wheels" until the "End of The Line."
About the Writer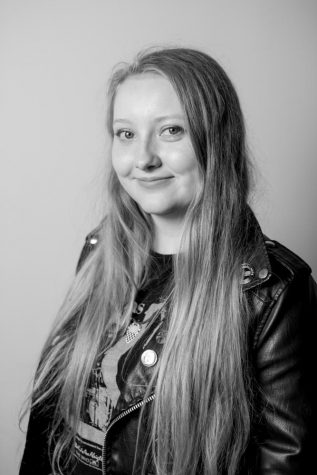 Katelin Aanerud, Editor in Chief
Kate is a senior and this is her fourth year on Northstar News. She is this year's Editor in Chief, and Feature Editor. She is involved in Viking Strings...