Just a song before he goes: Graham Nash comes to Chicago
Hang on for a minute...we're trying to find some more stories you might like.
Riding the bus to school everyday becomes so routine that I can start listening to Pink Floyd or Tom Petty and drift off into a sleepy haze … until we pull up to Golf. Either my bus misses the light and we wait there for what seems like forever, or we make it smoothly through and I get ready for my school day. One day we seemed to sit there for longer than usual and I let my gaze wander out the window and to the rotating list of artists set to perform at The North Shore Center. And, for once, I recognized a name: Graham Nash. Two time Rock And Roll Hall of Fame inductee Graham William Nash was coming to my town.
He wasn't necessarily a common name around my house or anything, but after years of listening to wXRT and The Drive on car rides up into Wisconsin I had memorized the lyrics to "Ohio," "Our House," and "Suite: Judy Blue Eyes." Nash's voice, along with Stephen Stills, David Crosby, and Neil Young have been imprinted in my mind for as long as I can remember. Those harmonies were something I could never get out of my head.
It wasn't long after I saw the sign that I got into him as a solo artist. And, it wasn't long after that that I had my face buried in a copy of his autobiography Wild Tales, had a DJ promo edition of his first solo album Songs For Beginners permanently resting on my turntable, and had changed my phone background to a flattering shot of him from 1971 … it was safe to say that I was in love. Too bad that it's no longer 1971, and that he's now 76. Still, I consider myself a very determined girl, so I needed to see the legend in concert.
Turns out on March 17 at 8 p.m., I got to see him. From the very back row, mind you, but I was still seeing him. And my eyes never left the stage. Despite his age, every note was held out, his high pitched harmonies were spot on, and he still had a full head of hair. Not the long haired, youthful guitar god that adorned my walls and record collection, but it was good enough!
He ran briskly through the few first songs, which included "Bus Stop," his hit with British Invasion group The Hollies, "Immigration Man" accompanied by an amusing story about his troubles with American airports, and his newer track "Myself At Last." He soon got around to playing my favorite Crosby, Stills & Nash song "Marrakesh Express" and then a surprising rendition of his solo song, "Right Between The Eyes." He threw in a few more songs from the 1970 album Déjà vu, including a thoughtful performance of "4 + 20."
He closed the first half of the show with a cover of The Beatles' "A Day In The Life," and for the first time in an hour I got the chance to take a breath. I reached into my purse and remembered the 8track I had stored in there, along with a Sharpie, in case I got the chance to meet my idol face to face. I was having such a good time that I didn't bother getting my hopes up about him gracing the vintage copy of Wild Tales.
The second half of the show was filled with stories and hits from another generation. He played "Just A Song Before I go," "Mississippi Burning," and a medley of "On a Carousel" and "Carrie Anne." Again, Nash, along with this guitarist Shane Fontayne and other accompaniment, had my eyes glued permanently to the stage for the remainder of the set.
Other highlights included "Our House" in dedication to Joni Mitchell, an amazing cover of Buddy Holly's "Everyday," and a truly heart wrenching, but inspiring, rendition of "Chicago." He came out once more for one final song, "Teach You Children." The entire crowd was singing along, and even if he couldn't hear me from the back row I was too. I thought about the lyrics the entire time, and all of the people in my life that it relates to. I realized every song he performed had a message, and they were all so moving.
I walked out in a daze, heart still fluttering a little bit as I could feel the 8track fumbling around in my fringe purse. I turned to my mom, and before we could leave the parking lot, we had circled around towards the back entrance. And there it was. Their tour bus.
I had already jumped out of the car before my mom parked and I was just in time to run into Fontayne. I showed him my 8track and his eyes went wide. He told me he would check inside and see if the man himself was already resting in the bus. He came out a few minutes later and approached me once more. He asked for my name in a hushed tone and took the piece of music history with him and back into the bus.
I'll never forget that concert, because of all of the rock stars left, Nash is one of the most genuine. I know this because in his book he talks about meeting his idols, The Everly Brothers, and that ever since he stops to talk to fans. Fontayne stepped back out and handed me the tape, and I couldn't help but throw my arms around him.
Music is an everlasting form of art, and Nash has never steered away from the controversial side of things. "Ohio" was written about the tragedy at Kent State. "Mississippi Burning" was written is response to the KKK murdering three college students in 1964. He even twisted the lyrics of "Military Madness" and "Chicago" on the spot to reflect his attitude towards America's political situation.
I'll never forget that concert, because it made me consider the future of music. No matter what it sounds like, people will always get their message out through this everlasting form of art.
About the Writer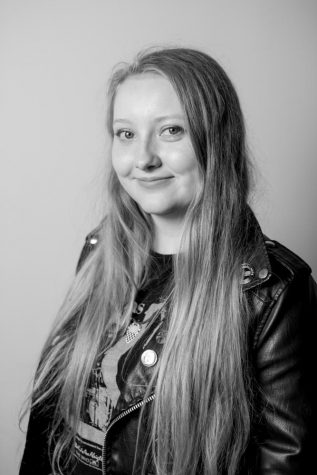 Katelin Aanerud, Editor in Chief
Kate is a senior and this is her fourth year on Northstar News. She is this year's Editor in Chief, and Feature Editor. She is involved in Viking Strings...