Theatre department reaches for new heights; spring musical begins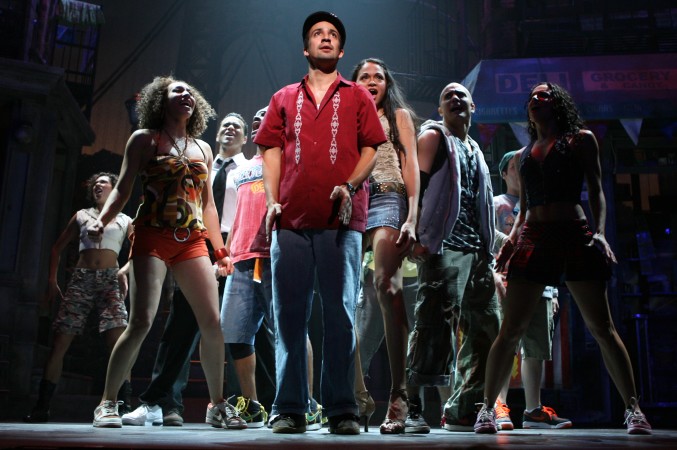 Come see a whirlwind of energy and culture better known as this year's spring musical, In The Heights, and follow a Hispanic community living in Washington Heights as they illuminate what life is like for an American immigrant.
In The Heights is a musical by Lin-Manuel Miranda, an experienced Broadway playwright and actor. It centers around a group of Hispanic immigrants living in Washington Heights; characters from Cuba, Puerto Rico, Mexico, and the Dominican Republic are the stars of this show.
"It's definitely our most dramatic musical…this is extremely Latin/Hispanic, there's reggaeton in it, there's samba, merengue," Jacob Rosenberg, senior thespian, said. "It's been a very different year in terms of theatre in that….this year, we've been turning to a lot of underclassmen. So it's been very cool in that we've been getting underclassmen leads. We have freshmen leads in the show, and our ensemble is huge….there's people from all over."
"One of the most important themes – at Niles North, in our theatre department, and in our community – is diversity," Timothy Ortmann, director, commented. "This year we've been taking intentional steps to reflect that, [in] productions like We The People and In The Heights."
"The leads are very diverse," John McCreary, senior thespian, agreed.
The musical reveals what it's like to be an immigrant in America. We follow Usnavi, a Dominican man who lost his parents and was raised by Abuela, a compassionate old woman who came to America with her mother from Cuba. We hear her story, and the unique narratives of a dozen others as they illuminate what daily life is like in a cascade of Latin culture.
"In the Heights is the most complex, intense musical I've ever played, rhythmically speaking. As a percussionist and drumset player, it's great to be able to play around with different ideas and ways to set the beat, but the book has been as exceptionally challenging for the pit as it has been fun to learn," McCreary added. "I've been listening to this music for years, so getting the chance to actually play it with such a talented group of people is a dream come true."
"There's this amazing club scene, which has this great Latin/jazz, amazing, amazing trumpet solos, and just a spectacular rhythm section. Drums, clave beats," Rosenberg agreed.
"I can't believe we did that club number every night…I'm very glad I survived them," Miranda, playwright and actor, said. "It's all the more reason to celebrate immigration being one of the best stories we tell as a country, the fact that you can come here from somewhere else and if you work hard, you can make a better life here."
"Everyone, at one point, is an immigrant, and we all have unique, different stories and experiences. We're all drawing from fiction, but also from a place in real life when we play these characters," Rosenberg said.
In The Heights went on Broadway in 2008, and has since won four Tony awards. Don't miss out on this once in a lifetime event! There will be a showing tonight at 7 p.m. and two this Saturday at 2 p.m. and 7 p.m. Tickets are $15 at the door. See you then!