Teams Fluff and Ruff battle it out in a tight fight for the Lombarky Trophey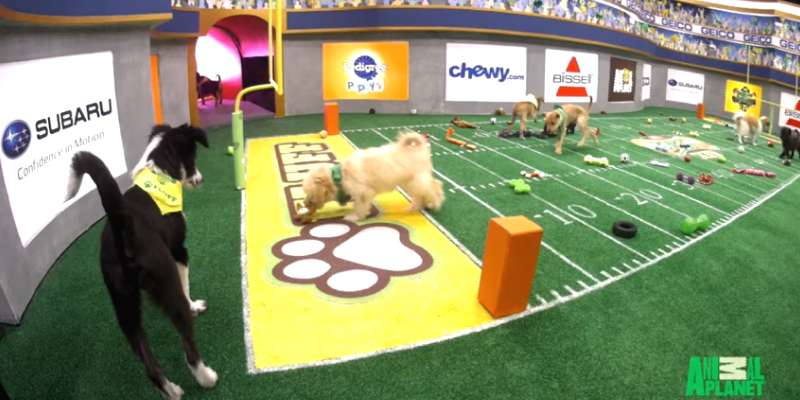 It's that time of year for friends and family to gather around for a night of good food, great laughs, and adorable puppies!
With a brand new stadium, and last year's MVP (Most Valuable Pup) Rory here to steal the first toy, Fluff and Ruff rush onto the playing field to represent their team in Animal Planet's Puppy Bowl XIV which aired on Feb 4.
As the first quarter came into full swing, we got our first glance at this year's pups. Blueberry Pie and Joy were honored to be playing for team Fluff, and Petree and Morris were ready to strut their stuff for team Ruff. Within the first few minutes, team Ruff's J-Paw scored a touchdown. Lila quickly got into the action for team Fluff, and brought the two teams into an early tie. Boomer and Lila had a brief run in together between plays, until Luna scored for team Fluff with a purple, fuzzy squeaky toy. J-Paw powered past the goal line with a giraffe toy within his teeth, bringing these too team back to a tie of 14-14 and closing the first quarter. This put him in the running for this year's MVP.
A few more excited pups bounced out for second quarter. Fluff's Bear, and Olympia were ready to battle with their opponents Barry and Savannah. Barry and Olympia seemed to be the biggest competitors, until Savannah decided to break past her teammate, and scooped up another seven points for Ruff. After a quick team meet up, Barry focused on the game, and scored a field goal, pulling Ruff even further into the lead. Bear pulled Fluff up with another touchdown and swung back, scoring again, and getting him a spot on this years MVP ballet. Ana and Macchietto took back the lead for Ruff in the last few moments of the first half, bringing the total to 34-28.
The Kitty Halftime Show featured cats of all shapes and sizes who took their place in the spotlight after a frenzy of touchdowns from the pups. All of these feline fellows pranced and played with their favorite toys while teams Fluff and Ruff took a well deserved break.
"We have a dog from Mexico, we have special needs dogs, we have older dogs as part of a Dog Bowl, which is a separate senior bowl that we have," Rufferee Dan Schachner said. "It's really grown into a great competition."
The second half of the 14th annual Puppy Bowl kicked off with a new lineup, and everyone beside Mr.Wigglesworth seemed to be ready to play. Teammates Juniper and Dak got into a rumble that was interrupted when Sally scored twice for team Fluff, giving them a eight point lead and her a chance at the title of MVP. Ruff's Peanut shot down field, and Dak kicked a toy into the endzone to bring Ruff back into the lead. The barn yard cheerleaders were going wild for their sides. Bunnies, chicks, and piglets all cheered for the pups as the third quarter came to a close.
With only one quarter left, these pups were ready to fight for the Lombarky Trophy. Kaleb Junior from team Fluff circled the endzone before scoring a field goal. These teams really are tugging the lead from each other in this last quarter. After an extraordinary leap, Moonshine kicked a squeaky bone into the endzone.
Still, Fluff managed to finish off strong and win with a tight score of 52-47. The underdog award was given to Mr. Widdlesworth, while Bear was voted as the MVP for Puppy Bowl XIII.
About the Writer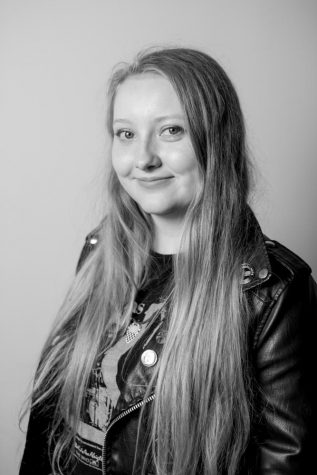 Katelin Aanerud, Editor in Chief
Kate is a senior and this is her fourth year on Northstar News. She is this year's Editor in Chief, and Feature Editor. She is involved in Viking Strings...