Chilling flicks on Shudder: The Netflix of horror
Hang on for a minute...we're trying to find some more stories you might like.
Grab a warm blanket and a hot drink because both the cool weather and spirits are seeping through the crack under your door!
For horror fanatics and thrill seekers a new streaming service has stepped up to the plate and challenged Netflix. Shudder is a streaming service available for $5 a month, and has a wide range of horror movies and shows available. But which one is better for those hungry for a truly spooky season?
One of the best series available on Shudder is Tales From The Darkside. This 80s anthology series steps between Netflix's Black Mirror, and the classic Twilight Zone. While it has the campyness of one of those black and white flicks, it's a creative and quick watch. George A. Romero's groundbreaking Night Of The Living Dead is also up on their site, and is a must watch during the Halloween season.
The best part of Shudder is their ability to honor the classic films while still bringing new, exclusive material to the site. Films like Count Dracula, The Death Kiss, and The Black Cat are perfect for those rainy nights inside as Boris Karloff, Bela Lugosi, and Christopher Lee are screened in glorious black and white. For a chilling night with you and your friends movies like We Are Still Here, Among The Living, and Dearest Sister would all be sure to give those wanting newer special effects a satisfying night of frights.
Shudder is set apart from Netflix for many reasons. This streaming service is home to a plethora of short films that were screened at Sundance, or were part of Shudder's Summer of Shorts. The platform also aims to bring its audience a wide variety of films from different countries. There are full categories dedicated to the brilliantly twisted tales from East Asia, and others from the minds of fan favorite directors like Guillermo del Toro.
The streaming service has also decided to follow in the footsteps of other sites like Amazon Prime and Netflix by creating their own exclusive content.
"At Shudder, we carefully select every new title added to our library to ensure we are giving our members something beyond what is expected. Expanding into original programming is a natural progression for us, and we're proud to further enhance Shudder's offering by bringing our members the vision of emerging and established storytellers who are pushing limits within genre entertainment," Owen Shiflett, a developer for Shudder, said.
They started pushing these boundaries with the help of Director Rodney Ascher as they created the short documentary Primal Screen. "Shudder was great; they were supportive of the project both in conception and execution. We'll have to wait and see a bit to know if we're doing more episodes," Ascher said.
The site also has a newer service called Shudder.TV. Subscribers who are still trying to decide on which flick to end the night with can tune in and see one of the films they have playing. Shudder. TV is just like watching a movie on television, minus the commercials. While the stream is consent, therefore one may enter in the middle of a movie, all films are available in their catalog. It's a good way to find something new straight from their site, as if there was a simple "random" button available.
There is also a Shudder app available for free with a subscription for all iOS devices. The app runs pretty smoothly, crashing way less than Netflix's similar app. The app seems to be even easier to navigate than the online site. It also makes it easy to see new additions to the site, which are added about every other day.
Shudder has a few cons, though. Unlike Netflix, there is no "currently watching" list on their homepage, nor is there a "my list" feature accessible from the main list of films. It's available in a completely different tab, and the way it shows the time left in a movie is a bit confusing.
Because of Shudder's range of films, its fun categories, and small fee, it's the better choice in comparison to Netflix for the fall season. Be sure to try it for yourself with a one week free trial, but beware of the goblins and ghouls lurking behind your screen.
About the Writer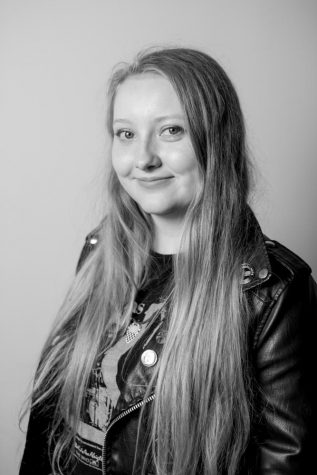 Katelin Aanerud, Editor in Chief
Kate is a senior and this is her fourth year on Northstar News. She is this year's Editor in Chief, and Feature Editor. She is involved in Viking Strings...