"Knives Out," a modern Who Dunnit?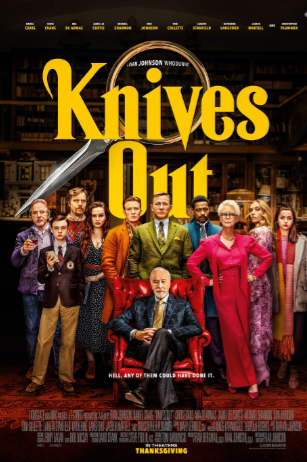 Hang on for a minute...we're trying to find some more stories you might like.
"Knives Out", directed and written by Rian Johnson, is a classic whodunnit that was released on November 27. The film is about a crime novelist, Harlan Thrombey(Christopher Plummer), who died on the night of his 85th birthday. A southern private detective comes to determine how the death came to be, and how the family, who lived off of the novelist's money, could be involved. This movie takes the mystery stories that we all know, flips it on its head, and makes an entertaining movie with great dialogue, and insight into how money can drive people to do terrible things. 
The story takes place sometime in the modern era, and the setting is mostly in Harlan Thrombey's mansion. The family of Mr. Thrombey includes his oldest daughter and her family, Linda(Jamie Lee Curtis), Richard(Don Johson), and Ransom Drysdale(Chris Evans), his youngest son and his family, Walt(Micheal Shannon), Jacob(Jaedan Lieberher), and Donna Thromby(Riki Lindhome). The family of Harlan's passed away son, Joni(Toni Collete) and Meg Thromby(Katherine Langford). An important piece to the array of characters is Private Investigator Beniot Blanc(Daniel Craig), and Marta Cabrera(Ana de Armas), Thrombey's trusted nurse. 
As someone who is from the south, I can say that the British actor, Craig gave an accurate southern accent and all in all has one of the top performances in this movie. The way Craig portrays a sure detective taking in the mystery of it all was really a joy to watch. Another great performance is by de Arma she was a great emotional center for the movie. Evans also gave an amazing performance and almost plays off the audience's expectations of him being a good person when they already know him for playing Captain America in many Marvel movies. 
"
What I very much enjoyed, is how it shows how cruel people can truly be if it means getting money."
— Nicole Nantz
The scene that I enjoyed the most is one scene in the middle of the movie. What I very much enjoyed, is how it shows how cruel people can truly be if it means getting money. In one memory scene, the family is talking politics on immigration. One family member brings out Marta, whose family are immigrants, to prove their point of being able to immigrate legally. In a later scene, every single last one of them verbally attack Marta for the sake of money, they call her every name in the book. This shows that people may say they have strong beliefs on certain political ideas or that they care, but when that personally affects them, all morals fly out the window. The one complaint I have is that I wish there were more scenes with the full family. The way they bounced their hatred and pettiness off of each other gave some really funny scenes and insight on how this family is runned. Another thing that I loved about this movie is the cinematography. The shots in this movie are absolutely stellar, and plays off of the story. 
The lesson that I learned from this movie was that you can't give handouts to your family. Thrombey used his fortune to give everything to his family, everything they asked for they got from his hard work. In turn, they became selfish and vindictive. If Thrombey told them no and they had to work from the ground up, I bet they wouldn't be the way they are. Another lesson, that my mother who saw the film with me took, is that no matter how bad it gets you should be a good person. For the Thrombey family, when things got bad, they let the knives out to stab everyone in the back. But, for Marta, even though terrible things happen to her in the movie, she never sinks that low. She always stayed good, and helps others. 
This movie is rated R, but there is only one truly bloody scene. I would recommend this to people who love a good mystery, excellent dialogue, and some pretty good performances. For ages, I would say that the average teenager could go see it with their parents. I would not recommend it for people who enjoy big blockbusters like Marvel movies because this movie is not that. This film is great, I truly enjoyed watching it. From a scale of 1 to 5 stars, I would give it 5 stars. 
⭐⭐⭐⭐⭐
About the Writer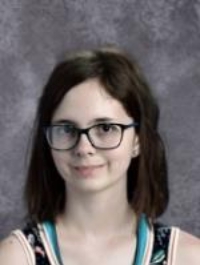 Nicole Nantz, Editor-in-Chief
Nicole Nantz is a writer and editor of the North Star News journalism team. The reason why Nicole started doing the class is so she can experiment with...