Thoughts on expanded learning hours, starting Monday
On April 15, D219 families were notified about the revised daily schedule which will commence on April 26. North Star News would like to know your thoughts on this change.
Here are some thoughts from readers who disagree with the new expanded learning hours.
"I think the break period was extremely productive and served as a better fit for students. This was a time where there would be no excuses for students to not attend office hours and if need be take a mental break from the strain that e-learning through a pandemic in general has. Although I'm not in person, I think this period could serve the hybrid students that as a study hall period in either the classroom of their third or fourth block of the day. This addition of hours in the building will likely deter students from coming back as not only are they being put at higher risk by coming in contact with more students, but also the students that began to find some comfort in going back with vaccine numbers on the rise and cases on the fall may want to delay their return until further notice. I think the student body began to reach a place of safety with the return at smaller numbers."
"It does not give students a good time to eat lunch if they need academic support, so the students needing academic support will be hungry while they are getting academic support. Also, all students will have no breaks between classes and students in remote learning will have up to six straight hours in front of the screen for remote learning if they need academic support and five if they don't. The need to eat and have a break from remote learning will discourage students from seeking academic support during the academic support period and if they do use the period, it will be hard to concentrate. The new schedule also does nothing to fix the problem of having the first class on Tuesday and Friday being an hour earlier than the first class period on Monday and Thursday."
"I have many classes that will be very difficult to get to within the 5 minutes, and to still only have half the classes each day, but for still longer than normal seems very off-putting. Also, the biggest issue comes with lunch. With many people that I know including mine, some days (mainly Tuesdays and Fridays), we will not be getting lunch until we get home from school. This is especially an issue for the first week, since many of my friends have play practice at 2 on Tuesday, meaning we would have to eat lunch at like 8 o'clock at night, or find some quick solution. If possible, I would prefer a full day with all classes, including lunches built in for those who didn't give it up. I am aware that this might not be possible however."
"I like how school ends faster but I think that students should be able to leave at 1 if they don't need any academic support instead of having a study hall, it seems pointless for students who don't need academic help as everyone is practically waiting to go home."
Here are some thoughts from a reader who agrees with the new expanded learning hours.
"Although I don't think it's right that we don't get time to eat during the school day, and I don't like the fact that breaks between classes are shortened, the more time we spend in school, the better. I look forward to having every class in person."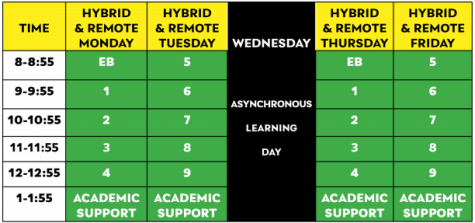 Leave a Comment