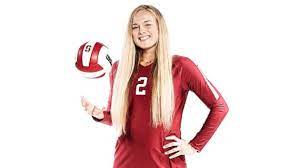 During a global pandemic it's hard to thrive or find motivation in what you want to do. Kathryn Plummer is a good example to find motivation. Since Kathryn was young, she has been playing multiple sports. She started playing volleyball due to her older brother Kristan, who played in a club. Kathryn Plummer, 22 years old, born in Long beach, California. She currently lives in Aliso Viejo, California. She graduated from Stanford University playing both beach and indoor volleyball.
Kathryn's entire family are athletes so she started playing when she was three-four years old. She was in multiple clubs growing up, so her parents told her to decide what sport she wants to pursue due to the fact that her and her brother were barely home. She ended up choosing volleyball because she knew she had a good chance of thriving in the sport. Kathryn soon pursues volleyball to another level. Kathryn got many college scholarships but she committed to Stanford University. She went to Stanford with a full scholarship. Her career started on May 5, 2015. 
Kathryn kept pushing even when times got tough. Kathryn is the only player in history to win FIVB world championship medals in both beach and indoor volleyball. She won her first FIVB world championship medal in beach volleyball in 2014 which was gold. Then continued to win a silver medal in indoor volleyball in 2015. She is a two-time NCAA champion with Stanford. Two- time PAC-12, three-time AVCA (American Volleyball Coaches Association), and ESPNW national player of the year.
 She also coached for the Encore volleyball club. She has participated in several clinics to teach young kids how to play volleyball. Outside of the court, she held a clinic at the Boys and Girls club in San Francisco and read to kids to help promote literacy. She also has served food at St. Anthony Pauda's dining room. Throughout seasons she had matches dedicated to Breast Cancer Awareness and One Love and Equality.
During college, Kathryn Plummer achieved many awards and championships but she never let that stop her from achieving more. She always had the mindset to do more, to max out her ability. After graduating, she joined team USA and played for them. She currently plays for team Denso Airybees. Before quarantine she was in Italy playing volleyball, but luckily got back home before the quarantine started. Even during the quarantine, Kathryn is still pushing, she is training everyday to improve her skills. She is pushing herself, motivating herself because she wants to get better. Times do get hard but she always looks at the positive side which makes everything better.