Amanda Gorman inspires an entire nation
You probably know her from Joe Biden's Inauguration. However, her story is way bigger than that. Amanda Gorman is a poet that writes about marginalization, race, and feminism, and she isn't afraid to share her feelings. 
Gorman's poetry doesn't just highlight the problems that black people and women face in our country, but it also provides them with hope. When asked about Amanda Gorman, Niles North Senior, Sultan Omogbolahan, who is a member of the student group NOTICE, said, "It takes a lot for someone like her to stand up and do what she does." Even though there are going to be people that disagree with her and try to take her down, Gorman courageously writes about the problems in our country. 
Born on March 7, 1998 in Los Angeles, California, Amanda Gorman was raised by a single mother who teaches middle school. Gorman grew up with a speech impediment while also having an auditory processing disorder. She used songs as a form of speech therapy, particularly ones from the Hamilton soundtrack. It was in elementary school when she fell in love with poetry after one of her teachers read Ray Bradbury's "Dandelion Wine" to the class. 
At age 16, she received her first major award. She was chosen as the first ever Youth Poet Laureate of Los Angeles. In 2015, the year after winning that award, she published her first poetry book called The One for Whom Food is Not Enough.
After high school, Gorman went on to attend Harvard University. It was there in 2017 where she became the first person to be named National Youth Poet Laureate. 
In January of this year Gorman performed at the Inauguration of President Joe Biden after gaining First Lady Dr. Jill Biden's attention when she recited poetry at the Library of Congress. 
After her performance at the Presidential Inauguration she received a lot of praise and attention. She went on to deliver a poem in a recorded video that was played at Super Bowl LV's pregame ceremony. Later that month she made the cover of Time Magazine's February 2021 issue. 
In the beginning of this month, Gorman tweeted about being racially profiled. She said that she was followed home by a security guard who thought she "looked suspicious." Gorman went on to tweet, "This is the reality of black girls: One day you're called an icon, the next day, a threat." Senior Seble Maru, a member of DREAM, says she did not find it to be surprising and that it is unfortunate "that with her brilliance she is still just seen as another black person." 
Amanda Gorman isn't just a poet. She is someone who provides us hope for a better future during some of our country's darkest times. 
We continue to see Americans being marginalized for their skin color or gender. Gorman leads the charge to inspire these people to give them the confidence they need to be proud of who they are. 
Leave a Comment
About the Contributor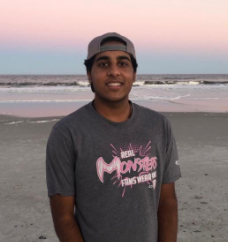 Anuj Patel, Reporter
Anuj Patel is a senior at Niles North who loves to write. He has been a member of the tennis and soccer teams while also being involved in DECA, Scholastic...