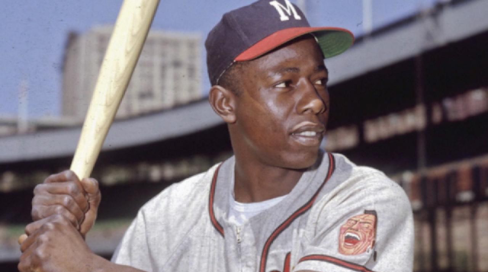 On Tuesday, January 22, the baseball world was hit with an overwhelming wave of sorrow when it was announced that Hall of Famer and former home run champion Hank Aaron had passed away in his sleep at the age of 86.
"Our family is heartbroken to hear the news of Hank Aaron's passing," Georgia Governor Brian Kemp said in a statement on behalf of the Aaron family. "Hank Aaron was an American icon and one of Georgia's greatest legends. His life and career made history, and his influence was felt not only in the world of sports but far beyond — through his important work to advance civil rights and create a more equal, just society."
Aaron's death came just days before February 1st, signaling the start of Black History Month where the nation reflects on African Americans' contribution to U.S. history. To honor his legacy and contribution to baseball, his former team, the Atlanta Braves, held a memorial service on January 22, the day of his death. Terry McGuirk, the chief operating officer for the Atlanta Braves, alongside MLB Commissioner Rob Manfred, announced as part of the Atlanta Braves Foundation, the team would be creating the Henry Louis Aaron Fund to encourage more minority participation in the league. 
Hank Aaron was born February 5, 1934, in Mobile, Alabama as the third oldest of eight children. When his father took him to hear a speech given by Jackie Robinson, Hank was inspired to commit himself to playing baseball. He showed an early interest in sports and played both baseball and football throughout high school. In 1951, Aaron was signed by the Indianapolis Clowns of the Negro Baseball League. Aaron played brilliantly in the minor leagues and even became MVP of the South Atlantic League despite being the constant target of prejudice. 
In 1954, the Boston Braves invited him to join the Major Leagues when left fielder Bobby Thompson broke his ankle. But Aaron didn't rise to stardom right off the bat. During his first year, he batted just .280 with 13 home runs, totals among the lowest of his entire career. But 1957 would eventually become one of the most historic years in not only Hank's career, but that in the history of the MLB. That year, Aaron hit 44 home runs, 132 RBIs and led the Milwaukee Braves to the World Series.
By the end of 1973, he had accumulated 713 home runs. He was only two away from eclipsing the most hallowed record in all of American sports – Babe Ruth's career home run record. On April 8, 1974, at the age of 40, Aaron hit a pitch from Los Angeles Dodger pitcher Al Downing over the left-field fence in Atlanta's Fulton County Stadium. He had broken Babe Ruth's record. To this day, one of the most memorable highlights in sports history is the image of Aaron rounding second base with two fans running after him trying to congratulate him. 
But achieving this historic feat didn't come without struggle. Off the field, Aaron was an activist for civil rights, having been a victim of racial inequalities. Aaron was born, at the height of the Jim Crow era and was forced to play in the Negro Baseball League, separated from whites. During the buildup to his passing of Ruth's home run mark, threats were made on his life by people who did not want to see a Black man break the record.
"If I was white, all America would be proud of me," Aaron said almost a year before he broke Ruth's record. "But I am Black."
Aaron was shadowed constantly by bodyguards and forced to distance himself from teammates. He kept all those hateful letters, a bitter reminder of the abuse he endured and never forgot.
He ended his career with 755 home runs and remained the leader in home runs until his record was eclipsed by Barry Bonds in 2007. He still remains the all-time leader in RBIs with 2,297. On August 1, 1982, Hank Aaron was inducted into the Major League Baseball Hall of Fame. Both the Braves and Brewers retired his uniform number "44." The MLB's Milwaukee Brewers, NFL's Atlanta Falcons, MLS' Atlanta United and Georgia Tech's football team all said they would retire their No. 44 jerseys in Aaron's honor for the 2021 season according to ESPN.
Hank Aaron became, in the words of President Carter, "the first Black man for whom white fans in the South cheered."
It was not only his bat but his character that won over those hearts and minds. For generations of athletes and civil rights advocates who followed, he showed how to be proud and be unafraid to stand up for what is right and just.