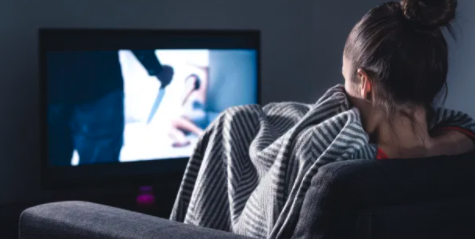 One of the best and most beloved parts of Halloween is the scary movies that come with it. Though we are living through rather troubling times, nothing beats laying on the couch and getting terrified by what's on the screen. In no particular order, here is a list of ten great movies to watch during the season of the witch. 
Coraline(2009)
This creepy classic is sure to send chills down your spine with its unique characters,
jaw-dropping stop-motion animation, and the world that it makes. Coraline is based on the book by Neil Gaiman, and is directed by Henry Selick. 
It tells the story of Coraline, who is rather unhappy with her parents, not giving her enough attention, and the fact they had to move. She soon discovers a secret door in her new home that leads to a new world. Where she finds her "Other" Mother and her "Other" Father. Everything in this new world is better than Coraline's, but everything is not what it seems. 
Coraline is PG, and you can watch it on Hulu. 

Midsommar(2019)
If you want something that is more experimental and disturbing, Midsommar,
directed by Ari Aster, is perfect for you. The complex cinematography, the hidden messages, the unsettling environment is perfect if you want to get disturbed. 
Midsommar follows a couple who goes with a group of college friends to a little community tucked away in Sweden to celebrate Midsommar. At first, everything is bright, but like everything else it is a mask. As the story progresses, things get violent, and soon the true intentions of the little community are revealed. 
Midsommar is rated R, and you can stream it on Amazon Prime. 

Happy Death Day(2017)
If you want something a bit more on the fun side, then Happy Death Day is the movie for you. It is fun with its mystery and the nature of the premise of the movie. 
The story is about Tree, a college student who isn't the best person, who is just trying to celebrate her birthday. If only there wasn't a baby-mask-wearing murderer killing her. But, each time the murderer kills her, she comes back. Tree has to figure out who keeps on murdering her in order to stop the endless cycle. 
Happy Death Day is rated PG-13, and you can get it on Amazon Prime

Child's Play(1988)
Back at it with the classics, this time it is Child's Play, the movie that started the
Chucky franchise. If you want to watch some good 90s slasher movie but with a possessed murder doll. Then this movie is right for you. 
The film follows Andy when his mother gives him a Good Guy Doll, but the doll is a lot more odd compared to all the others. The doll starts talking to Andy, and being unnerving, but no one believes Andy. Will Andy be able to convince the adults of his predicament, or will the doll win? 
Child's Play is rated R, and you can watch it on Amazon Prime. 

Scary Stories to Tell in the Dark(2019)
We all know the book, whether it may be from reading the horror stories or simply staring at the art that complimented them.
 The story follows a group of teenagers when they encounter their town's open secret, and deal with the horrors that it brings as they face the monsters from the original book. 
If you want a pretty good horror story, some iconic characters from the book, and some pretty good effects, then you should give Scary Stories to Tell in the Dark a watch.
 Scary Stories to Tell in the Dark is rated PG-13, and you can watch it on Hulu.
Remember to stay safe during Halloween, and be sure to watch some of these horror films.