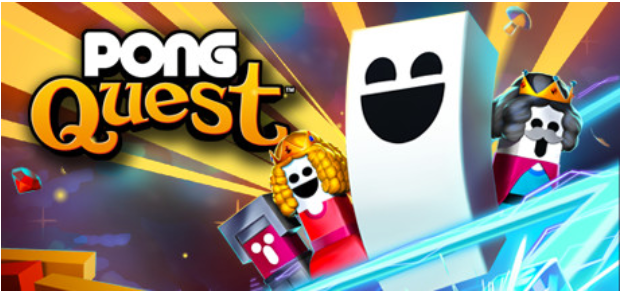 For the first time in years, Atari is bringing back the first breakthrough video game phenomenon, PONG…as a role-playing game.
PONG Quest was announced March 31 in a short gameplay trailer exclusive to IGN as well as an article that went along with it.
This game shakes up the PONG formula by keeping its classic gameplay and spicing it up with RPG elements.
In the game, you play as a highly-customizable PONG paddle with many custom suits, skins, and headwear and "take up the challenge in new PONG battle gameplay featuring over 50 different types of balls each with their unique abilities," as mentioned in the Steam description. "Solve puzzles and gather precious loot as you uncover the secrets of the Orbs on a journey to unlock the mystery of the Spooky Door."
What separates this game from the rest of the PONG franchise is its wildly different approach as it is presented more like a dungeon crawler, with each dungeon having a quirk inspired by other Atari classics such as Centipede or Asteroids.
There will also be new local and online multiplayer modes, including one where up to three players face off by bouncing off PONG balls with unique abilities.
One Niles North student shared his opinion of this new PONG approach.
"I loved the original PONG so a new one in RPG form seems like a dream come true," sophomore Adam Sykurski said.
In a news update by Atari, the company COO Jean-Marcel Nicolai issued a statement about the new installment in the franchise.
"PONG as an RPG is something completely unexpected, but wonderful in execution," Nicolai said. "We are thrilled to bring PONG Quest to life to honor the classic IP and bring the beloved gameplay to a new generation of players and RPG fans. Atari has a rich portfolio of titles and exploring new ways to breathe new life into those franchises yields exciting results."
In my opinion, as odd as the concept of a PONG RPG may be, I think it may be odd enough to actually work. A game like Crypt of the Necrodancer doesn't just work because of the mixture of rhythm games, roguelikes, and dungeon crawlers. It works because of the execution. PONG Quest could show a lot of potential if the idea works in practice.
PONG Quest will be available later in spring of 2020 on Steam for PC, Nintendo Switch, PlayStation 4, and Xbox One for $14.99.