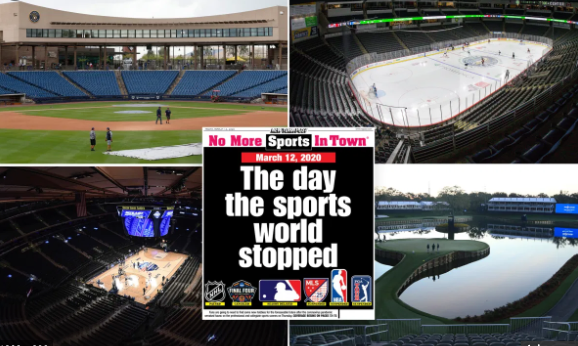 Photo from New York Post
Due to the Coronavirus, all major sporting leagues such as NBA, MLB, NHL, and major Soccer leagues around the world are canceled or postponed.
 The National Basketball Association (NBA) canceled games on March 11 due to Utah Jazz center, Rudy Gobert. Late afternoon games were minutes away from tip off when the news came out about Gobert. Later on that night, Gobert's teammate, Donavon Mitchell has also tested positive for the Coronavirus  which made him the 2nd player in the NBA that has tested positive.
The game between Oklahoma City Thunder and Utah Jazz was canceled due to possibility of Gobert's teammates being infected with the virus. The game between the Sacramento Kings and New Orleans Pelicans was canceled due to a game that the referee for the night, reffed the Utah Jazz games the other night and could have possibly been infected with interactions with Gobert. Later that night, the NBA suspended the season for the fans and players safety of it spreading.  The approximate time for the suspension for the NBA season is around 8 weeks. 
National Hockey League (NHL) followed the NBA actions by also suspending their season as long as the virus slows down globally. There were only 10 games left in the NHL season. Currently, there are no NHL players who have tested positive for the virus but the league instead took precautions in suspening the season until the virus slows down. 
Major League Baseball (MLB) has delayed their opening day to at least two weeks. Spring training in Arizona and Florida is canceled due to the large crowds at the training camps which can spread the virus around. The MLB was the last major league to act upon suspending the season to stop the spread while also keeping the fans and players safe.
UEFA Champions League, the league of the best of the best soccer clubs all around the world gather to play one another in a tournament to win a trophy to define the best team has started playing games with no fans in attendance. On March 11, Paris Saint Germain Vs Borussia Dortmund faced one another in Paris with no fans in attendance to prevent players from getting the virus. It is a trend that UFEA was starting to consider but recently the league has decided to postpone the tournament. It will seem to resume once the Virus slows down across the world.
English Premier League, Italy Serie A, France Ligue 1, German Bundesliga, Spanish La Liga and American MLS soccer leagues have all been postponed until further notice. The leagues plan to resume after 4-8 weeks.They postponed it to keep players safe and also stop big crowds around the arena after games which can cause the virus to spread more within the air.