Matilda closes its doors after one performance due to COVID-19
The Niles North Theatre department opened the musical Matilda at a community performance on March 12,  but due to COVID-19, their curtain closed shortly thereafter. 
Due to COVID-19, they had to cancel Ronald Dahl's Matilda the following dates: Friday, March 13 and Saturday, March 14. 
"I am absolutely heartbroken," sophomore actress, Samantha Ratliff said. "Everyone worked so insanely hard on this show and it got canceled before we could show it to all of our family and friends. I've never met such a talented group of individuals." 
"I think that it's a bummer that we were not able to complete all of the 5 performances," sophomore pit Trombone player April Frias said. "We worked hard not just to showcase the work we got done but for ourselves. I am super proud of all the work I put into the musical and that's what matters." 
This play, directed by Timothy Ortman, is a revamped adaptation of Roald Dahl's story Matilda. Matilda is about a gifted young girl, Matilda Wormwood. She is forced to put up with an awful mom and dad and an evil principle named Trunchbull at Matilda's school. Matilda discovers she has the magical power of telekinesis. Once she finds out this power she begins to defend her friends from Trunchbull's wrath and fights back against her unkind parents.
"The crew put in a tremendous amount of work and the pit played the whole show for weeks leading up to the show to perfect everything. But, that being said I do understand that health precautions needed to be taken," freshman actress, Alexis Chiet said.  "It's just tough to get all the people who put in time and effort, to not get to have our performances. It's even worse for the seniors because it's their last year. I am lucky, being a freshman that I still have three more opportunities. I just wish my family, along with all the other families and friends, got to see this production of Matilda. 
About the Writer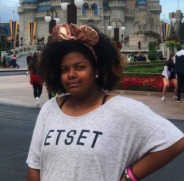 Alx Taylor, Reporter
Alx Taylor is a 16 year old Sophomore, who is a new addition to the North Star News staff. She is interested in photography, graphic design, and dance....