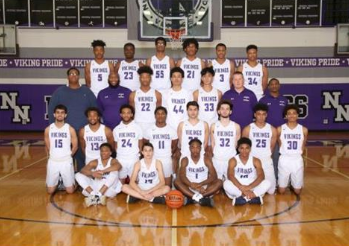 NN Boys Basketball Home Page
Boys basketball continues its record-breaking season with a stunning record of 25 wins in a single season which has never  happened in Niles North history. Currently, they are undefeated in conference games with a win-loss ratio of 10-0. 
According to the company Max Preps, they are also undefeated in home games with 11 wins to 0 losses. They have a winning rate of about 86.2% and a 6-game winning streak. 
"The records we are breaking are completely monumental," senior boys basketball guard Christopher Harris said. "We have the most wins in Niles North history."
 According to Harris, several students have been very successful. He described senior Aquan Smart as the most "winningest" player Niles North history and he mentioned athlete junior Liam Graham has broken the record for most three-pointers in a single game with 8 three-pointer shots. Smart has been successful in his basketball career because he has committed to the University of Maryland's basketball team. Maryland's team ranks number 7 nationally according to ESPN.
"The season's been going well, and it's a nice feat to have a record number of regular season wins," senior boys basketball manager Ademola Osimuwa said.