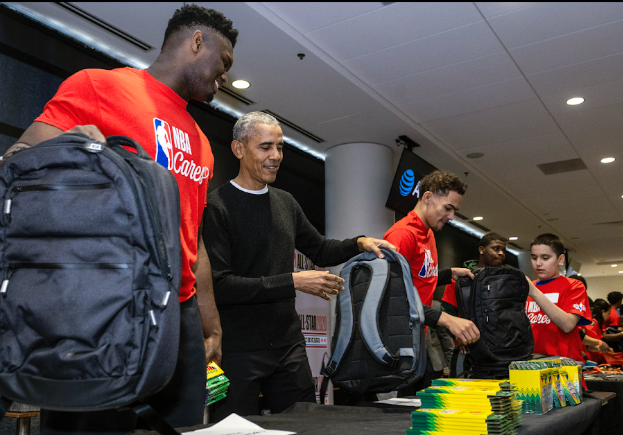 This past weekend in Chicago from February 14-16, NBA All-Star weekend wasn't only about basketball. It was about charity work led by our former President Barack Obama and also honoring one of the greatest NBA player to live in Kobe Bryant. 
Barack Obama joined charity group NBA Cares during All-Star weekend in downtown Chicago. Obama was a surprise guest who took time out of his day to help the people in need in Chicago. The former president packed supplies for teachers and students currently in CPS. 
The NBA recently changed the All-Star's game format for the first time in history. Instead of playing for fun and games, it was now meant for charity.  The two charities involved this weekend are After School Matters and Chicago Matters. Team Lebron represented Chicago matters while Team Ginnias represented the kids in After School Matters. 
Team Lebron and Team Ginnias were the two teams going against one another on Sunday Night in the United Center. Team Giannis represented Kobe with every player wearing the jersey #24 in honor of Kobe . Team Lebron wore #2 in honor of Kobe Bryant's daughter, Gianna Bryant who was also killed in the crash this past January.
Every quarter had presented $100k to the winning team's charity and the final quarter coming to total of 200k to the winning teams charity. Team Lebron won the first quarter while Team Ginnias won quarter two. In the third quarter the score had ended in a tie, meaning the total prize of $100k would carry onto the fourth quarter which would make the fourth quarter a grand prize of $300k to the winning team's charity. 
Team Lebron won the final quarter 157-155 , winning the $300k grand prize to Chicago Scholars, a group of kids who come from low income homes / neighborhoods. These kids do not get the same amount of income or opportunities as opposed to kids in other parts of the city or even the suburbs. 
 NBA commissioner Adam Silver had announced a day before Sunday's big game that the MVP award for the All Star game will be renamed to " Kobe Bryant's MVP award" in which Los Angeles Clippers Forward Kawhi Leonard had won at the end of the game. Kwahi was a player that was mentored and coached by Kobe Bryant throughout his NBA career.
On February 24, the Los Angeles Lakers held a ceremony for Kobe Bryant and his daughter Gianna Bryant, the dates that correspond with their jerseys numbers. It was an opportunity where Kobe Bryant's life long wife, Vanessa Bryant spoke  publicly for the first time since the tragic incident.
Kobe's and Gianna's friends and family spoke on their amazing times and memories with them. The great Micheal Jordan also spoke on his memories with Kobe and how great of a person he was, more so than a basketball player.