Edwards goes northward with senior lunches
Hang on for a minute...we're trying to find some more stories you might like.
The greatest thing a principal can earn is their students' trust, and current principal James Edwards has a new plan in motion to work towards this goal — by meeting with all of the 530 seniors of NN from now until graduation.
You may remember how your eyebrow perked up when you saw the emails Edwards began sending, announcing this plan and subsequently inviting first responders to lunch. Your eyebrow may be perked right now, reading about this for the first time. If you still have unanswered questions on these matters, look no further.
Edwards' meetings will occur every Friday, composed of him and the first seniors to respond to his email requests to meet within a select lunch period. The average group size is five, but it's a flexible number. (According to him, this process has shed light on the fact that "many students don't check email regularly — so please check it.")
The chosen seniors will congregate in Edwards' office over pizza, paid for by him, and will be allowed to share retrospectives on NN, detail their futures after graduation, give ideas as to how Edwards can better the school environment, and finally complete a three-minute survey. While meetings have pre-established objectives, the students' being the main drivers of the conversation's energy gives it a healthy fluidity, ensuring that no two meetings are exactly alike.
The meetings originated from Edwards' own want to communicate with his students in intuitive ways — as well as unique ways, since he has been principal for two years. Knowledge of the plan's ambitiousness and the sacrifices that would have to be made–such as clearing his schedule and accommodating students in study halls and lunch periods — did not deter Edwards.
"As a principal, it is important for me to connect with all seniors to hear about their future plans as well as getting to know them as young adults," Edwards said. "Since I hand them a diploma at graduation, it would seem more meaningful to me that when they walk across the stage, I have some insight into who they are and what they aspire to be.
"I feel that my experience raising four teenagers can evoke a sense of both empathy and guidance for things I have seen in the world that may help them make informed decisions."
So far, two meetings have been held with 10 students, and Edwards considers them both successes. "The conversations are very insightful into both student experiences at North as well as getting a pixel into what they have learned and what they aspire to be," Edwards said. "I am grateful to work with such bright, creative, and humorous students."
Student reactions to the plan have been mixed, with a general skepticism being the undercurrent for even optimistic sentiments.
"I think it's very reasonable, but some people might not want to give up time with friends at lunch, or maybe they have other stuff they're busy with," Sami Abdul, senior, said. "I think it's a nice way to connect with students but most students probably aren't as invested in that."
In response to student dubiousness, Edwards had this to say: "There are always naysayers in every aspect of school and life. My response to the skeptics would be to check a meeting out when I send out the lunch requests and then make a judgment one way or another."
Be on the lookout for Edwards' emails in the future — and even if your curiosity was not piqued before, perhaps this new information will help you to come in with an open mind.
Featured image by Sam Mwakasisi; components from Pixabay and Chicago Tribune
About the Writer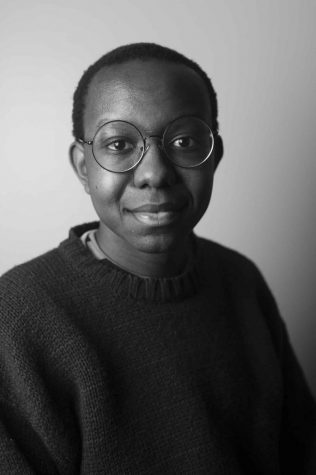 Sam Mwakasisi, Editor-in-Chief
Sam Mwakasisi is the Editor-in-Chief of North Star News. He is a senior, and this is his third year with North Star. He is involved in Film Club, Mental...