Alum-inescence: Jason Mormolstein
Hang on for a minute...we're trying to find some more stories you might like.
Countless paths in life have led the Niles North staff to their current jobs, but the trails for several have dipped and winded from the graduation ceremony to the office. Yes, many teachers in this school were once students just like you, and they have interesting stories to tell.
Around the school, you may be passed by a blur of flannel and argyle sporting a head of curly hair attached to a modest beard. This blur belongs to Jason Mormolstein, a renaissance man of a Viking worker.
Mormolstein works in various fields within NN, but he's an English teacher first and foremost; it's this subject that got him a job at NN.
This job currently consists of teaching two English classes — College Prepatory English Honors and American Language Composition/US History (ALCUSH), a hybrid class of English and history. He additionally co-advises North Star News alongside Ivan Silverberg.
While studying at NN, Mormolstein never seriously considered taking the route of a teacher, instead taking an interest in art. During college, his directive shifted towards being an English teacher, at which point he knew without a shadow of a doubt where he would be best suited.
"I kept thinking, 'What could be better than North?'" Mormolstein said. "High schools are high schools, but North always seemed special to me, and when I got the job, it was kind of like returning home."
However, not all in the school know Mormolstein as an English instructor–and that's because he never quite gave up on the art he enjoyed so much as a student. He makes original comics and animations under the name "Hilaritron", but otherwise specializes himself through his love for film.
"What could be better than North?"
Mormolstein sponsors Film Club, a space for students enthusiastic in watching and making movies, and teaches a film analysis class called Images of Literature–a class he took as a NN student that fostered his passion.
While he loved the Images class, film was not a huge passion of his as he ventured through college, so he was shocked when he was scheduled to teach it once he was hired.
Learning under the wing of three experienced Images teachers, he began kindling informal film analysis skills that grew into the pursuit of a master's degree in literature, putting film at the forefront of his studies.
When it came to his favorite aspect of NN, Mormolstein named the school community, citing the synergy of "working with fantastic people" and the diversity, "while at this point it may sound like a cliché". In his own words, "I am very lucky to work here, and I will never forget that."
Mormolstein is a shining example of "aluminescence" here in Niles North; be sure to say hi if you see him in the halls!
Featured image by Sam Mwakasisi
About the Writer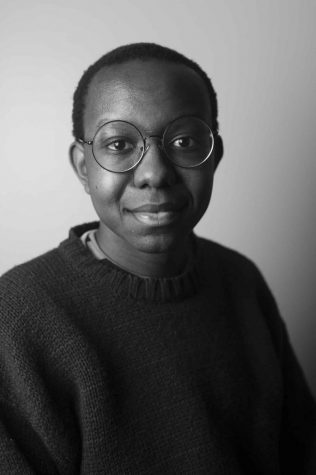 Sam Mwakasisi, Editor-in-Chief
Sam Mwakasisi is the Editor-in-Chief of North Star News. He is a senior, and this is his third year with North Star. He is involved in Film Club, Mental...