Boy's volleyball season cut short after bitter loss to Niles West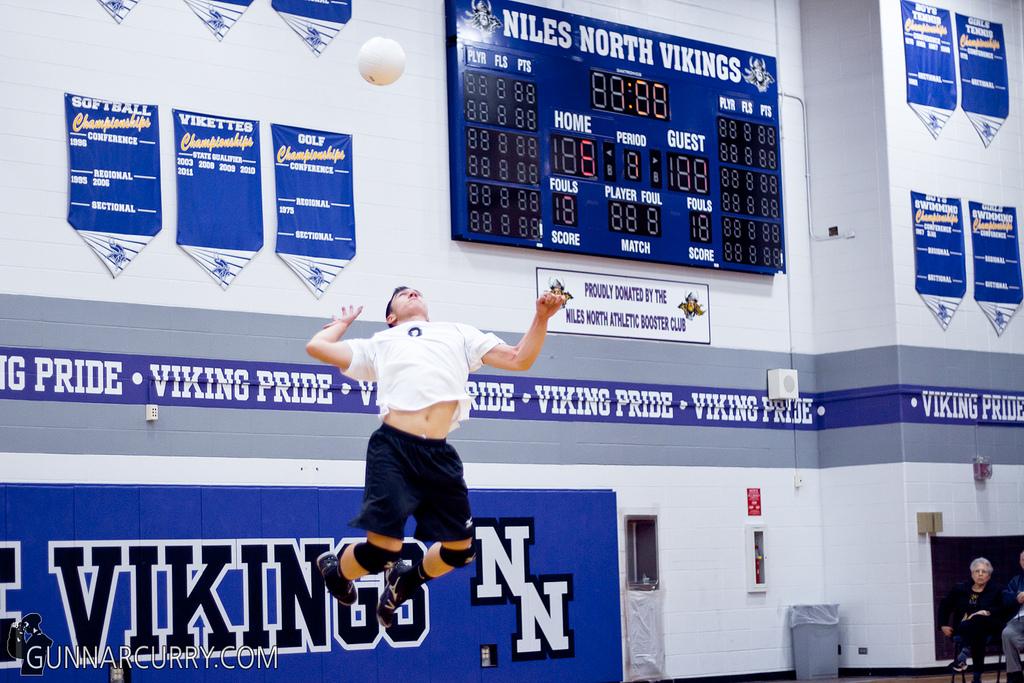 The pressure of a playoff game is intense. So is the pressure of a rivalry game. But a combination of the two amplifies the intensity immensely. Unfortunately, the Viking boys volleyball team couldn't quite handle it.
In the regional semi-final game at Evanston against archrival Niles West, the Vikings fell short in a hard-fought three-game match.
Niles North dominated early, winning the first game 25-18 and owning the Wolves in every facet of the game.
Junior Kevin Lubowich said, "We dominated the first game with great energy. Our hitters were in the zone."
The Vikings carried that momentum into the second game, jumping out to a 17-12 lead. But senior Michael Rowen suffered a nosebleed, which caused a major delay in the action and killed Niles North's momentum. After the nosebleed, the Wolves went on a 13-5 run and won the second game 23-25.
"I think the turning point was when Mike had a bloody nose and the trainer at Evanston took such a long time to fix him. We got out of our groove. After that I feel like our players got nervous because of the close game" Lubowich said.
Niles West capitalized on the change in momentum and took control of the final game, winning by a score of 16-25 and advancing to the regional final against Maine South. The loss was particularly painful for the Vikings because a victory was within reach, but they failed to execute when it mattered
Head coach Carol Herlocker said, "We knew it could go either way and we had a game plan that we stuck to in the first game. Then, all of a sudden, we let it slip away in the second and the third. In the third game, it just looked like we didn't have much control over anything. But I love that we never gave up."
The loss was the final game for Rowen, the lone senior on the team. He ended his volleyball career in style, leading the team with 13 kills and adding 4 blocks.
"Michael Rowen will be missed immensely because of his outstanding ability and work ethic," Herlocker said.
As for next year, the team remains optimistic about its chances. "We will be a team of mostly seniors,"  Lubowich said, "and I know everyone is going to be committed to getting better. All of our players will be lifting hard, trying to play all year long and improve their skills. We have high expectations for next years returning players and for our team."