Sultry sounds for Jazz Appreciation Month
Hang on for a minute...we're trying to find some more stories you might like.
Whether it's used as background music for leisure or a kick of energy on a daily commute, it's safe to say that the world of jazz music has a far wider modern-day reach than a subculture of elitist hipsters. (Fun fact: the word "hipster", under different connotation, was actually used in the 1940s to describe enthusiasts of jazz.) As April was officially deemed Jazz Appreciation Month in 2001 by the National Museum of American History, here are some handpicked selections from my personal favorites within the genre that will hopefully instill within you a starting or deepening appreciation for the craft.
Miles Davis, Kind of Blue (1959)
Why is it important? Much like it would be wrong to make a list of quintessential rock albums without at least five Beatles albums, it would be a great disservice to form a list of classic jazz albums without mentioning Kind of Blue. It opened to critical and commercial success unprecedented even by today's standards, and the impact that it's had on genres from further jazz to rock to classical in the near-60 years since its release makes its influence immeasurable, and its etching into the stone tablets of music history unignorable.
What does it sound like? Expect a lot of expertly crafted and cooled-out melodies that maintain a remarkable equilibrium between peaceful, cooled-out vibes and passionate sections where Davis' horns practically become human in their sheer emotion. The album runs for just over 45 minutes but manages to package its entire sonic odyssey into just five tracks. Runtimes for songs run upwards of 10 minutes, but the full experience is worth its weight in gold.
Wes Montgomery, The Wes Montgomery Trio (1959)
Why is it important? It's good to mention that the album cover of Trio boasts the following caption: "A Dynamic New Sound: Guitar / Organ / Drums". In tandem, the manner in which these meager tools so smoothly coalesce throughout the album's 48-minute runtime is truly dynamic indeed. While Wes Montgomery is known and lauded for his originality–namely, his distinguished guitar technique of plucking strings with the side of his thumb–Trio showcased that he was not above respecting his elders and paying homage to his contemporaries, with much of the tracklist dedicated to covers of jazz standards.
What does it sound like? Expect a purely warm and domestic sound–the type of sound that keeps to itself, daring not to eke beyond the bedroom, but with full-enough rhythms to ensure that its meekness does not equate to weakness.
Stan Getz and João Gilberto, Getz/Gilberto (1964)
Why is it important? A collaborative project between American saxophonist Getz and Brazilian guitarist Gilberto, alongside the somewhat under-billed Brazilian composer Antônio Carlos Jobim, Getz/Gilberto's equanimous puree of jazz and bossa nova–a Brazilian genre that combines jazz with samba–earned it praise from both sides. The album was responsible for putting bossa nova on the map, and also became the first jazz album ever to take home a Grammy Award for Album of the Year.
What does it sound like? Getz/Gilberto carries all of the sultriness of jazz, but also incorporates bossa nova, a genre invented in Brazil that combines jazz with another genre: samba. Expect a large focus on both instrumental and vocal emotion accentuated by a minimalist approach to song construction, making the sonic pangs that pierce through the passionate haze that the album creates hit that much harder.
Paul Desmond, Summertime (1969)
Why is it important? For a compilation of recordings made the previous year, Summertime carries such a beautiful cohesion that you'd likely think these songs were destined to be next to each other. Much like Trio, Summertime also contains a slew of covers, tipping its hat to a healthy variety of sources like Paul McCartney ("Ob-La-Di, Ob-La-Da"), Snow White and the Seven Dwarfs ("Someday My Prince Will Come"), and Oliver! ("Where Is Love?").
What does it sound like? Much like Getz/Gilberto, Summertime is a fine mix of jazz and bossa nova, but starkly contrasts that album's nocturnal allure, even though Desmond was the composer behind Dave Brubeck's "Take Five", not only one of the most universally appreciated songs in all of jazz, but a song that vividly evokes the bustling nightlife of a downtown city. Summertime, an aptly-titled album, embodies the brightness and verve of a cloudless summer day, despite the towering icicles pictured on the album cover.
Gil Scott-Heron, Pieces of a Man (1971)
Why is it important? Six words: "The revolution will not be televised."
But besides that, while Pieces of a Man was not Heron's first album, it was his first venture into jazz following the success he saw from his spoken-word album Small Talk at 125th and Lenox, which was packed to the brim with biting satire firing over live bongo drums, with the vocals and drums combining to form enough character to fill a room despite its sparseness. Pieces of a Man saw Heron's signature flavor of uncompromising social commentary being laid atop smoother and richer-sounding instrumentals, sometimes being eschewed entirely for some incredibly powerful singing. Most of the acclaim that the album received only came retrospectively, as people began noticing the elegant roads of dance and hip-hop music and realized that Heron began setting down the bricks a long time prior.
What does it sound like? Imagine waking up to the sound of gentle rain in the morning, and seeing water droplets cascade down your bedroom window. When you walk into your kitchen, Pieces of a Man is the album that you play as you stare out your window, cup of coffee in hand, ruminating over every thought swirling in your mind from the vestiges of your last dream to the constant social unrest in the world. Before you know it, you're already halfway through the album, and much like your coffee reducing down to those little bits of sludge, you find your Heron-onset reverie distilled down to a uniform sensation: hope.
Within the biome of jazz sounds, from cool to modal to free to acid to big band to smooth to avant-garde, these recommendations are merely a planted seed. There exist countless gems within the genre that will lend their way to incredible journeys if you have the piqued interest to seek them out.
About the Writer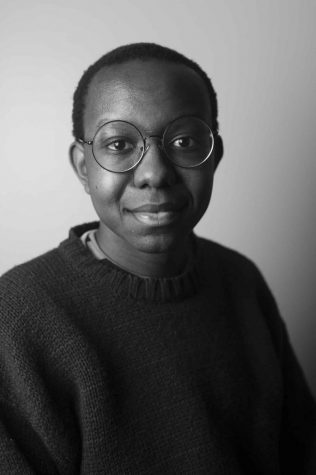 Sam Mwakasisi, Editor-in-Chief
Sam Mwakasisi is the Editor-in-Chief of North Star News. He is a senior, and this is his third year with North Star. He is involved in Film Club, Mental...