12 years later: J Dilla's Donuts
Hang on for a minute...we're trying to find some more stories you might like.
Few musicians can boast to have such a wide-reaching post-mortem impact on a genre as J Dilla had on hip-hop. The late producer's groundbreaking techniques made irreversible waves, and 12 years on, his final album Donuts stands strongly as one of the most intriguing hip-hop albums of all time.
From the day he was born, J Dilla–born James Dewitt Yancey–was destined for greatness. He inherited a deep musical knowledge from his parents (an opera-singing mother and a jazz bassist father), being able to match perfect harmonies at two months old. These seeds would proceed to grow throughout his life.
Yancey eventually developed a love for rap, becoming a beat producer by the name Jay Dee. He perfected his craft during his teenage years before pursuing a career in his 20s, building a domestic following within the rap scene of his birthplace (Detroit, Michigan) and achieving prominent fame in the 1990s. Yancey's idiosyncratic methods influenced a generation of future producers, most iconically his willingness to add humanistic errors to his beats, such as making his drums slightly off-beat.
Yancey produced within the rap community for artists and groups such as the Pharcyde, De La Soul, Common, and A Tribe Called Quest, as well as for mainstream musicians like Whitney Houston and Janet and Michael Jackson. Yancey also achieved success as a member of the group Slum Village, composed of him and two high school friends.
The 2000s marked a time of change for Yancey. He officially began going as J Dilla, since Jay Dee invoked confusion with rapper/producer/fellow "JD" Jermaine Dupri. He also left Slum Village and started a solo career, releasing a studio album in 2001.
Unfortunately, Dilla's health began declining around this time, undergoing considerable weight loss in 2003 and having to tour Europe from a wheelchair in 2005. Eventually, the source of the issues was brought to light: Dilla was suffering from a combination of lupus and a rare blood disease called thrombotic thrombocytopenic purpura.
This is where Donuts comes in.
During an extended hospital stay in the summer of 2005, Dilla was visited by a group of his labelmate friends who gave him a small record player and sampler to ensure that his creative drive would be unhampered. And unhampered it was; during his stay, despite swelling in his legs and hands, Dilla completed 29 beats for what would be his second studio album, Donuts.
Considering the circumstances of its creation, Donuts is consciously crafted from its dawn to its denouement as a farewell from a creator who knows that their days are numbered, much like David Bowie's Blackstar.
As Dilla was 31 at the time of making the album, Donuts (named after his favorite food at the time) contains 31 tracks, running a total of just over 43 minutes and unfolds like a grandiose musical scrapbook. The album is bookended by an outro placed at the start of the album and an intro placed at the end. (Yes, really.) Track lengths run an average of one to two minutes, with one three-minute outlier ("Workinonit"), the beats are given little time to leave an impression but do so nonetheless.
As per Dilla's musical expertise, he utilizes indiscriminate sampling (taking portions of music, namely loops, and reusing them in another song). The meat and potatoes of Donuts' sound come from nuanced 1970s/80s music, primarily R&B and soul, with some sporadic instances of rock. However, Dilla also incorporates more recognizable sources such as the sultry sound of the Jackson 5 ("Time: The Donut of the Heart") and the unmistakable nasal grate of the Beastie Boys' Adam "Ad-Rock" Horovitz ("The New").
From a technical perspective, it's quite obvious that a great sum of care went into Donuts. The balance that Dilla strikes between the analytical and the aesthetic is an equilibrium that producers today struggle to achieve, and as a result, the album carries more heart than many modern hip-hop albums.
It's a work that speaks for itself as much as it serves as a vessel for Dilla to bid adieu to his family, friends, and fans. The most explicit examples of this are "Don't Cry" and "U-Love", which involve Dilla using samples of the sung phrases "I can't stand to see you cry" and "Just because I really love you" to speak to his listeners in a manner that transcends music and reaches levels of pure art.
As Donuts starts with its ending, its finale is constructed as a beginning–a new beginning, perhaps.
The final two tracks of the album present themselves as commentaries on Dilla's legacy. In the penultimate track, "Last Donut of the Night", singer Al Goodman's sampled mention of a "young man" who "went out and made a name for himself" is repurposed with new context to seem like an esteeming of Dilla. Furthermore, the feel-good grooves of "Welcome to the Show", which is simultaneously the album's intro and final track, make the song feel like Dilla's curtain call, and a beckoning for him to join "the show" and begin his next adventure in someplace better.
What is most beautiful of all is that the intro ends by abruptly cutting into the outro, creating something of a perfect, circular loop. A loop much like that of a donut.
Donuts was released on February 7, 2006–J Dilla's 32nd birthday.
Three days later, he passed away.
To this day, the legacy of Donuts lives on, with the album receiving high acclaim and its beats being reused by a slew of artists including MF DOOM, Jay Electronica, Ghostface Killah, Big Sean, and Lupe Fiasco.
Donuts is truly a supernova of an album, and a perfect parting gift from one of the most legendary producers in hip-hop. The prospect of someone creating a work this powerful while sitting in the maws of death is still hard to comprehend, and it's truly an example of life's bitter irony that in the pits of his worsening weakness, Dilla's strength reaches a marvelous climax.
Rest in Peace, James Dewitt Yancey.
(February 7, 1974 – February 10, 2006)
Original album artwork by Stones Throw; featured image design by Sam Mwakasisi
About the Writer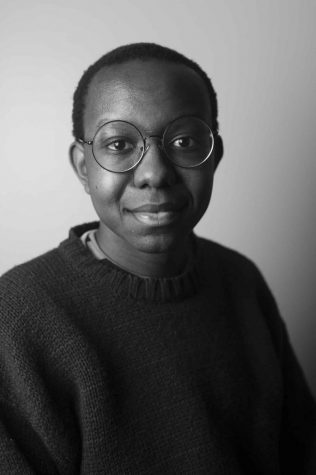 Sam Mwakasisi, Editor-in-Chief
Sam Mwakasisi is the Editor-in-Chief of North Star News. He is a senior, and this is his third year with North Star. He is involved in Film Club, Mental...