Thank you 4 your service: A Tribe Called Quest bids funky farewell with final show
Hang on for a minute...we're trying to find some more stories you might like.
When people think of groups who have earned rightful thrones in the pantheon of hip-hop, among the likes of OutKast, the Pharcyde, the Beastie Boys, and the Wu-Tang Clan, A Tribe Called Quest is bound to pop up. The New York-based group made waves in the genre through never-before-seen sonic and lyrical experimentation that allowed them to retain relevance for decades. With a recent performance in the United Kingdom, the Tribe's jam-packed, decades-long career has reportedly come to an end.
Although they didn't release any new music, 2017 was nevertheless a busy year for A Tribe Called Quest. They spent the summer doing a series of shows mixing songs old and new, appearing at events including the Pitchfork Music Festival, which was held here in Chicago this past July. On Sept. 10, the group made a stop at Bestival, a music festival held in southern England. Halfway through their performance, group member Kamaal "Q-Tip" Fareed made a flooring announcement. "We suffered a blow," Q-Tip said. "We lost our boy Phife Dawg. This is gonna be our last show as A Tribe Called Quest, ever."
According to NME, the show continued after the news was given, and the main set ended with Q-Tip saying, "27 years, thanks for all the support you've given us over the years. Phife Dawg!"
Although they were mainly prominent in the 1990s, in-house issues led ATCQ to disband in 1998. A series of sporadic shows throughout the 2000s climaxed with a performance on The Tonight Show with Jimmy Fallon on Nov. 13, 2015–the same day as the Paris terrorist attacks. This inspired the group to record a new album; however, on Mar. 22, 2016, group member Malik "Phife Dawg" Taylor passed away from diabetes-induced complications before the album was completed. The remaining members finished it in his memory, and the result was We Got It from Here… Thank You 4 Your Service. The mass success the album received following its release served as a testament to the group's status as hip-hop icons after all these years. (Check out North Star's review of the album here.)
"Although [ATCQ] may be ending, their legacy will live on in so many people's hearts," Miriam Berkson, senior, said. "They have touched so much of America's youth through multiple generations. It's sad to see them go, but their music will always resonate in American rap culture."
"I could easily write an entire book on [The Low End Theory] and still feel like I've hardly said anything."
With their innovations, the legacy of A Tribe Called Quest cannot be overstated. The group's unconventional sound blazed trails in the genre of alternative hip-hop, primarily through bridging the gap between hip-hop and jazz, which expanded the art of the genre's production. Their first three albums–People's Instinctive Travels and the Paths of Rhythm, The Low End Theory, and Midnight Marauders–codified the alternative hip-hop and jazz rap sounds that ran rampant in the years to come. To this day, they are all honored as classics in the genre.
"A Tribe Called Quest was the first of their time to incorporate Afrocentric and jazz themes," Berkson said. "ATCQ really got me into old school hip-hop and jazz; it showed me a side of music I never knew prior."
Equally influential was the group's lyricism, which dripped with density, wit, imagery, and an irresistible line-trading chemistry between the group members. The idiosyncratic, conscious charm of the group's lyrics separated them from the stereotypical aggression and machismo of the hardcore hip-hop that was popular at the time, making them truly unique. "Anything really worth writing about is nearly indescribable," Dave Heaton, editor for PopMatters, said. "I could easily write an entire book on [The Low End Theory] and still feel like I've hardly said anything."
The vast reaches of the outpouring of grief and sympathy following Phife Dawg's death showcased the impact that he and A Tribe Called Quest had on the world. While the hip-hop community paid respect to their hero, mainstream celebrities such as Elijah Wood, actor, Justin Timberlake, musician, and John Cena, wrestler, additionally chimed in with condolences showing how even they had been touched by the group's work.
"They weren't just another hip-hop group; they had a mission," Berkson said. That mission was to get the world to recognize real social issues."
Ultimately, all good things must come to an end. As bittersweet as the conclusion to the story of one of the greatest hip-hop outfits of all time is, it goes without saying that the courage and creativity exhibited by A Tribe Called Quest will live on. Their street poetry has become the everyday of many generations and will continue to inspire generations to come. Even though the group itself has sung its swan song, this is surely not the last we'll see of the spirit of the Tribe.
Featured image from Red Rocks Amphitheatre
About the Photographer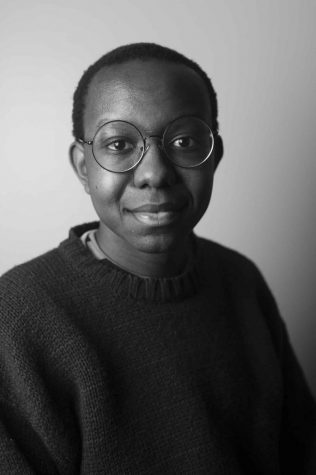 Sam Mwakasisi, Editor-in-Chief
Sam Mwakasisi is the Editor-in-Chief of North Star News. He is a senior, and this is his third year with North Star. He is involved in Film Club, Mental...