A globe more golden: Meryl Streep's political statement
Hang on for a minute...we're trying to find some more stories you might like.
With the 74th annual Golden Globe Awards occurring this past Sunday, as well as this year's Grammy and Oscar ceremonies just around the corner, the award season seems to be in full swing for this new year. It was a night of celebrating achievements and artistic expression in both film and television. However, it ultimately ended up making news headlines and even gaining controversy for another memorable expression from an award recipient.
2016 was a year that contained one of the most intense and emotionally charged presidential elections in American history, and the post-election fallout has more than carried into 2017. Meryl Streep, the most nominated and awarded actress in Golden Globe history, made note of that and seized the opportunity when she received the Cecil B. DeMille Lifetime Achievement Award for her extensive dedication and contributions to film. Although no names were mentioned, Streep criticized President-elect Donald Trump on a number of different facets during a speech that left the audience generally silent, including his infamous imitation of Serge F. Kovaleski, disabled New York Times journalist, at a rally in November 2015.
"There was one performance this year that stunned me," Streep said about the imitation. "It was that moment when the person asking to sit in the most respected seat in our country imitated a disabled reporter. Someone he outranked in privilege, power, and the capacity to fight back. […] Disrespect invites disrespect. Violence incites violence. When the powerful use their position to bully others, we all lose."
Streep continued to tie her thoughts on Trump's actions to bigger pictures by demonstrating how the diversity in Hollywood is currently being undermined. "…All of us in this room really belong to the most vilified segments of American society right now," she said. "Hollywood is crawling with outsiders and foreigners and if we kick them all out, you'll have nothing to watch but football and mixed martial arts, which are not the arts."
Predictably, her brave act saw a lot of mixed reactions from the media, ranging from support to outrage. Many of the people unhappy with Streep's words saw that her very prestigious position made her points of victimization less effective. "The press and Hollywood are some of the most privileged segments of society," Mollie Hemingway, senior editor for The Federalist, said. "Whether you measure it in terms of cash money, prestige, fame, or an ability to fail year after year and get promoted, Hollywood and media elite do not get to cast themselves as victims."
Additionally, President-elect Trump himself stepped into the fray for self-defense on Twitter. "For the 100th time, I never 'mocked' a disabled reporter (would never do that) but simply showed him 'groveling' when he totally changed a 16 year old story that he had written in order to make me look bad," Trump said.
On the other side, the speech also gained a lot of positive reception from people who believed that Streep was never in the wrong for voicing her opinion; freedom of speech is, after all, a privilege we have as Americans. "As an organization of journalists, the [Hollywood Foreign Press Association] stands by your defense of free expression and we reject any calls for censorship," Lorenzo Soria, president of the HFPA, said on Twitter.
"I would say that [Streep's act] is justified because this is America, and she should be free to share her opinion no matter what it is," Divya Barod, sophomore, said. "She was expressing something she really cared about and wanted others to understand how she was feeling and how she felt about the path that America is going in."
Even though her speech saw extreme reactions from both sides of the spectrum, Streep should not be held accountable for standing up for what she believed in. Like many in this country are right now, she was concerned, uncertain for the future, and driven to do something to prevent the worst-case scenario. Instead of using her acceptance speech to just thank a list of people, she took the opportunity to make a statement that she knew not everyone would agree with.
Some saw Streep's speech as an act of bravery, while others saw it as an act of foolishness. Nevertheless, as we face a turning point for our country, we must learn that unity is needed more now than ever, and we're not going to get anywhere by constantly pulling each other down. Politics will forever remain a subject that will inevitably stir the pot and get many people upset, and perhaps for good reason in the sense that there is truly no right or wrong answer; it all depends on perspective. Instead of holing ourselves up in bubbles, we should learn to see things from others' viewpoints and coexist as one nation. And that, if you think about it, is what being an American is all about.
Images used in featured image from CodePen, Bergen Kino, Wallpapercave, and Collider
About the Writer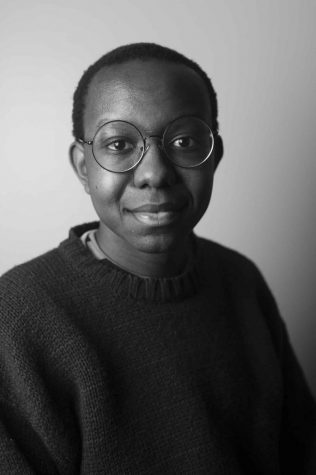 Sam Mwakasisi, Editor-in-Chief
Sam Mwakasisi is the Editor-in-Chief of North Star News. He is a senior, and this is his third year with North Star. He is involved in Film Club, Mental...