The Emoji Movie: Is it really a bad apple?
Hang on for a minute...we're trying to find some more stories you might like.
There's no denying that technology and the culture it has fostered are a cornerstone of modern society, a society that runs on constant connection and communication. Companies can use this to their advantage by advertising through these societal facets to appeal to a young target audience; sometimes it works well, and other times it comes across as petty and cringe-worthy. However, in the most extreme of cases, there can be the moment where they just go too far, and The Emoji Movie seems to have stemmed from that moment.
This film seemed to face trouble from the public right out of the gate, even though it was working with big names such as James Corden, television host, and TJ Miller, actor. As soon as the idea of a feature film based around Apple's famous digital icons was announced, it was met with mass ridicule and backlash from every side of the Internet and seen as the ultimate pandering only heard of in our wildest fantasies. To add onto this, the official teaser for the film (which ironically features the "meh" emoji promoting the film with the same dullness many of us are feeling) has over 70,000 dislikes in comparison to 6,000 likes; that's a like-to-dislike ratio of nearly one to 12. "Hollywood, discovering that something is popular and seeing the door 'opened' by The LEGO Movie (without realizing the amount of talent and skill that went into that picture), has now jumped on the bandwagon," Matt Goldberg, writer for Collider, said.
That same sense of disdain has even been felt by people here at Niles North despite the names attached to it. "I like TJ Miller, but I think this movie wouldn't have a very interesting plot," Sophia Keay, sophomore, said.
[perfectpullquote align="right" cite="" link="" color="" class="" size=""]"There's the potential for this to be wry and clever, but there's also the potential for it to go horribly wrong."[/perfectpullquote]
Originally titled Emojimovie: Express Yourself, the film centers around a unique, multi-expression emoji named Gene, who after being ostracized for his individuality, teams up with a few partners and embarks on a quest to become normal. The quest takes place entirely on a teenager's cellphone, which will inevitably lead to an almost nauseating amount of product placement. Ridiculousness aside, the whole "yearning to be normal" concept is an innocent idea, if not one that is perhaps overused and rather predictable. Here's the main question of consideration: could this idea have been salvaged in any way, or was it really doomed from the start?
One of the reasons Toy Story is held with such high regard to this day is because of its "bringing life and heart to inanimate objects/characters" concept that got assimilated and emulated with other animated films, which led to films such as Cars, Barnyard, Wreck-It Ralph, and the aforementioned LEGO Movie. The film seems to be built on shaky but purposeful ground, although all of that seems to be completely overshadowed by the silliness of its idea. There are even some people out there (although they're in the vast minority) that have some optimistic thoughts about the film. "I think it's a weird concept for a movie, but it's probably going to be unique," Petros Berrios, sophomore, said. "If it's made by a good animation studio, that's a plus."
Many people are hoping for its execution to justify its premises. "There's the potential for this to be wry and clever, but there's also the potential for it to go horribly wrong," Goldberg said.
At the end of it all, The Emoji Movie may seem like an idea so outlandish and egregious that it deserves to fail, and perhaps not even the tech-addled millennials that this film is marketing to will give this film a chance. Still, films with concepts that sound absurd on paper can turn out to possess surprising quality when they are actually executed (i.e. The Social Network), and at the same time, films with great concepts can turn out to be undesirable when executed (i.e. Suicide Squad). It may seem like blind optimism, but there truly could be a chance for a movie about digital icons to impress and shine. Between now and the film's release date, Aug. 4, 2017, all we can do is hope.
Featured image from Cosmopolitan, created by Sony Pictures Animation
About the Contributors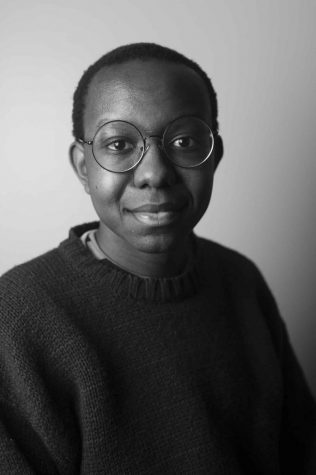 Sam Mwakasisi, Editor-in-Chief
Sam Mwakasisi is the Editor-in-Chief of North Star News. He is a senior, and this is his third year with North Star. He is involved in Film Club, Mental...