The times they are a-changin': Bob Dylan snags the Nobel Prize
Hang on for a minute...we're trying to find some more stories you might like.
Sparks have been flying in rapid fire over loving fans and angry foes over the musician Bob Dylan being awarded the Nobel Peace Prize in literature on Oct. 3. The controversy comes over the fact that most consider Dylan a musician and not a writer.
In the press release Dylan was gifted the award for "having created new poetic expressions within the great American song tradition". Dylan has released 37 studio albums since the 1962, and has worked with many other artist like Joan Baez, The Byrds, and Manfred Man. Dylan has received twelve Grammys, an Academy Award, a Golden Globe, and a Pulitzer Prize. He has been inducted into The Rock and Roll Hall of Fame, and the Songwriters Hall of Fame among many others. He has been included in Time's 100: Most Important People Of The Century, and the list just continues.
Dylan is the first musician to claim any Nobel Peace Prize and is the first American author to receive it since 1993, and many people have spoken their disagreements. Before these events, Dylan has been consider a poet without much conversation, if any. No one could argue his impact on music and poetry. The second he won, many suddenly were disgusted that he snagged the award using the fact that he was a "musician" and not a writer. Many took to twitter following the announcements.


If anything, a musician that has written over 450 songs, lyrics and tune, deserves the award more than any poet that has claimed it in the past. Dylan clearly has put a lot of effort into each and every one of his songs, and has written about many sensitive topics such as slavery, racism, and lost loves. He has written about the same things other recipients have written about, and maybe if he had never added the tune to each of them he might have received this award a long time ago.
When Sara Danius, the Permanent Secretary of the Swedish Academy, was asked about Dylan receiving the award she said "If you look far back, 2500 years of so, you discover Homer and Sappho. They wrote poetic texts that were meant to be listened to and performed often together we instruments, and it's the same way for Bob Dylan. We still read Homer and Sappho, and we enjoy it, and it's the same with Dylan — he can be read and should be read."
The answer wasn't blowin' in the wind, the decision has clearly justified and Dylan deserves this award just as much as anybody else. What we should be focusing on is the fact that not a single woman won one of the 33 awards handed out this year.
About the Writer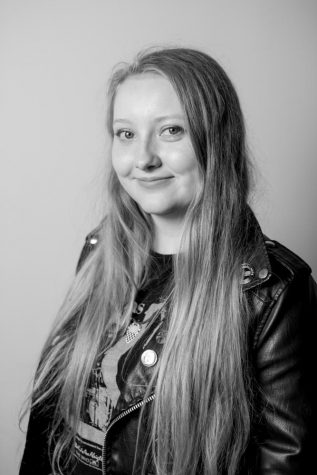 Katelin Aanerud, Editor in Chief
Kate is a senior and this is her fourth year on Northstar News. She is this year's Editor in Chief, and Feature Editor. She is involved in Viking Strings...